"To walk nature is to witness a thousand miracles." ~Mary Davis
I know, I know, I have written about hiking the Baekdu-daegan before but there is one more post I'd like to share with you. Why did we thru-hike this marvelous, 750-kilometer-long mountain-ridge trail?
For a number of reasons:
I had wanted to do some long-term hiking for quite some time (years) but somehow it just didn't happen. When Coen heard about the Baekdu-daegan, things somehow fell into place.
We feel that South Korea isn't exactly the right country for spectacular overlanding. Too densely populated, too asphalted, too many roads, not enough remote and empty areas accessible by car.
However, Korea has lots of nature, especially because 70% is covered in mountains. But to see the real beauty of it, you need to walk. And so we did.
Our blog posts are partly financed by monthly contributions (Patreon) and one-off donations (Support). Additionally, when buying at Amazon using our partnerlink helps too. Thank you.
In retrospect we feel that hiking the Baekdu-daegan is a perfect way to get to know South Korea. It isn't just about hiking, about setting one foot in front of the other for more than 700 kilometers.
The intriguing, interesting, beautiful part of this trail is how it intertwines with Korea's history, culture, rural life, and food. Hiking here is a good way to meet Korean people and to enjoy their friendship and hospitality.
On that note, let me share some of the magic moments during the last stage of our journey. Enjoy!
Read More: Hiking in Seoraksan National Park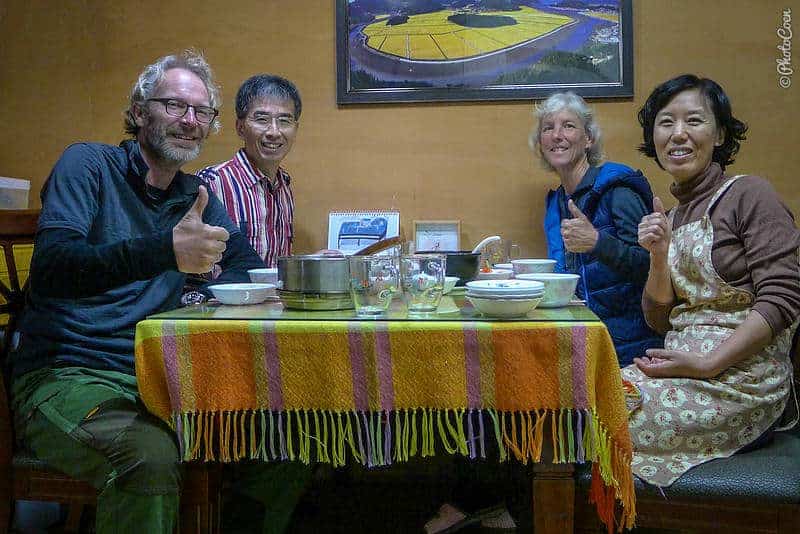 We hiked along remains of fortresses more than a thousand years old as well as war memorials dedicated to the Korean War (1950-1953). And we came across many sansin-gaks, shrines dedicated to the mountain spirit. Offering and praying here is very much a part of Korean culture and beautiful to watch.
Some of Korea's most amazing temples are on the trail or just a few kilometers away from it, with trails leading there. In some temples you can stay for the night, others are great just to visit. Buddhism is an important part of Korea's religious life.
Read More: Hiking in Jirisan National Park
The White Head Great Ridge, as it translates, is the spine of the country, running from north to south. It is home to all ofKorea's water sources. It's where Korea's energy and spiritually is felt strongest.
Read More: Hiking the Baekdu-daegan Mountain Ridge
Hiking the Baekdu-daegan is looked at with admiration and respect. Many Koreans hike it. Relatively few do it as a thru-hike, many as a section hike – sometimes alone, at other times with hiking groups. You're bound to meet other hikers and sharing food is a big part of Korea's culture.
Read More: Of Course You Can Hike a 465-Mile Mountain Trail
We feel grateful, privileged and better for having hiked the trail. To have met so many beautiful people, to have gained a deeper insight in Korea's culture and spirit, to have camped and hiked in such an extraordinary landscape.
Granted, hiking the Baekdu-daegan isn't easy. Trails are steep and summits are often farther away than you hoped or anticipated. But isn't that part of why you chose such a hike? To encounter your physical and mental boundaries and push through them? Tough as it is, it's all part of the magic.
Read More: Our Favorite Hiking Gear – The List After Two Thru-Hikes
For the hike I bought Baekdu-daegan Trail: Hiking Korea's Mountain Spine (paper book, find it here), a super book if you want to hike this trail. I ordered the book on Amazon and had it send to a friend's house in Korea. Very easy, no hassle whatsoever, it simply ended up in the mailbox (as it should).
Update, March 2018: The author published a new edition of the book. For some reason it's not properly visible on Amazon, so find it on his website instead.
Check it Out: Our Landcruising Adventure Backpack Collection
Get Inspired
Would you like to see more of such fabulous photos?
Follow us on Instagram for a daily shot of inspiration.

Inspired? Pin it to your Pinterest Travel Boards
More on Hiking & Running: