Japan kicked us out two months earlier than we had hoped for and anticipated. Customs and immigration (in any country) have nothing to do with each other, which meant that while the Land Cruiser could stay until November, our visas expired in September.
And so, we are back in Korea. We'll wait for spring before we'll ferry the Land Cruiser to Russia.
We've been busy, especially on the laptop. Stay tuned – a new website is in the making!
Read More: The Ferry Crossing from South Korea to Russia
We took a break during Korea's major holiday: Chuseok. This is a kind of Thanksgiving during which Koreans visit graves to honor their ancestors and bring offerings. The whole country is on the road and campsites are packed. It's a merry time to be out there too.
For a couple of days we drove and camped along the west coast. The Yellow Sea has a huge difference in tide here and during low tide the coast is a massive mud plain.
Read More: Driving Dunes and Beaches in Brazil
Beach Life
We found such a large and beautiful beach that I went for 4 walks on 1 day. I guess I was more than ready to stretch my legs after so much time locked up in cafés with WiFi. The longer and more I walked, the more my eyes focused on details.
From views of seagulls and people enjoying themselves to the shape of the beach and narrow streams of water meandering through it. From shells, jumping out for their big size and super white color, to the tiniest forms of life. From walking up straight I went down on my knees more often and deeper, which gave me new views and other shots.
Read More: From Typhoon to Okhinohama Beach
Coen, meanwhile, took his camera to check out what the vacationers were up to. Many were dressed in boots and fishermen water-protective gear, carrying buckets, spades, and containers with salt in hand. This was quite a different style of beach life than we're used to!
They were digging up their meal for the evening. Clamshells, but also something else.
When they shoveled away the top layer of sand and spotted holes, they threw in some salt and up came a worm-shaped shellfish. I have no idea what it's called and doesn't look particularly appetizing to me, but the eagerness with which they searched, this clearly was some kind of white gold.
Read More: Peru's Historical Past & Beach Pleasures
In the simplest of settings we had one of our most beautiful and relaxing days in South Korea.
Next week we'll take another break: to Vladivostok, Russia, for a week. Why? That is another story.
Read More: Sightseeing in Vladivostok
Check it out: the Classic Landcruising Adventure T-shirt Collection
Stay up to Date
Would you like to stay in the loop on all things Landcruising Adventure?
Sign up for our newsletter and get the latest news.
No spam, rare enough so as not to annoy, and easy to unsubscribe from.

Inspired? Pin it to your Pinterest Travel Boards
(click on the image to pin it)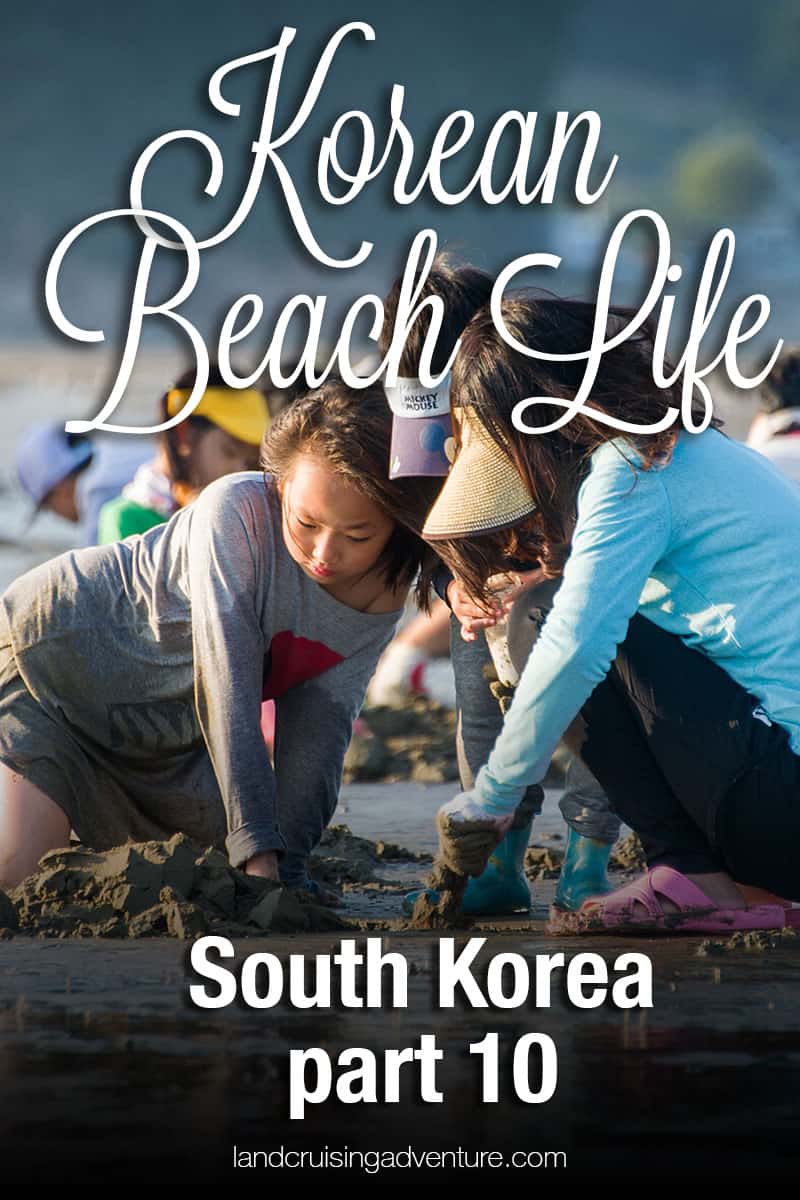 More on South Korea: