Viewed from the air, Uzbekistan is a striking patchwork of colours, with vast stretches of arid desert in the west giving way to jade green stripes along rivers an in the fertile Fergana Valley.

The seams of snow-capped Tian Shan Mountains denote the country's southern and eastern borders, their glacial meltwater the lifeblood of the plains.
In this Uzbekistan Travel Budget Report we share what we spent during our overland journey in Uzbekistan and on what. Next, we elaborate on those expenditures, detailing information on visas, car papers, gas stations and fuel, accommodation, public transport, and more.
Of course, we all have our own budgets and levels of comfort that we need for our road trip and this is meant to give a general idea of what you may expect on an overland journey through Uzbekistan. Some expenditures are fixed, such as visas, whereas travel expenditures on accommodation may be very different for you.
The purpose of our Uzbekistan Travel Budget Reports is to share our personal overland-trip experience, which may be useful for planning your road trip. For all general information, please make use of guidebooks on the region.
Two guidebooks we used in Uzbekistan:
Don't forget to check out the Uzbekistan Overland Travel Guide, which gives an elaborate overview of all things related to roads, roadmaps, navigation, traffic rules and traffic police, language, apps, SIM cards, WiFi, and more.
Uzbekistan Road Trip #1
For our first road trip we arrived from Tajikistan to southern Uzbekistan late October. This turned out to be a perfect time to arrive in Uzbekistan weather-wise – blue sky, pleasant temperatures. We were blown away by everything new and exciting, the super friendly people on the bazaar in Denau, the gorgeous but not much known Silk Road architecture in and around Termez as well as in Shakhrisabz.
If you like sightseeing, Uzbekistan is the country for you!
Arguably best known for the incredible architecture of mausoleums, mosques, forts, minarets, and other buildings, we dig right into the heart of historic Uzbekistan in Samarkand and Bukhara. Some of these are UNESCO World Heritage Sites.
All this sightseeing has nothing to do with overlanding, but you sure don't want to miss these cities.
Looking back at our photos, I am still overwhelmed by all that beauty that we got to see and admire. What a privilege! By being there in November it was a bit cold but the crowds were gone and the weather was still good. Recommended time to go!
Read More: The Silk Road History in Termez (Uzbekistan)
Check it out: The Classic Landcruising Adventure T-shirt Collection
Uzbekistan Road Trip #2
Our second visit was to western Uzbekistan. This journey happened mostly under cloudy skies which took away part of our pleasure of being here. We decided not to take up the one off-road adventure that attracts many overlanders (including us, normally, but just not now): driving from Moynaq – the famous harbor on the Aral Sea that now lies in the middle of the desert – into the desert and to the shore of the Aral Sea, now 200 kilometers away.
Western Kazakhstan means a lot of driving through monotone desert over badly maintained asphalt roads. But hey, you get to see the Aral Sea if you persevere, and otherwise the third famous town of Uzbekistan, Khiva, as well as the nearby remains of 2000-year old fortresses, palaces, and caravansarais certainly make up for that.
Uzbekistan Road Trip #3
After covid we returned to Central Asia and in Uzbekistan were sort of locked up because the surrounding land borders were closed. While spring was pleasant and beautiful, summer was incredibly hot. We divided our days between Tashkent, the capital (with temps of 48 degrees Celsius / 118F) and the mountains on its east.
The Uzbek mountains are beautiful, offer plenty of opportunities to wild camp and hike. However, since it's nearby Tashkent, it can get quite busy during weekends and vacation season. To find space in the wilderness, Kyrgyzstan offers more opportunities.
Despite the heat we also traveled to the Fergana Valley, the place to learn everything about the country's rich history of ceramics and silk production.
Having said that, we did enjoy our cooped up time in Uzbekistan, largely thanks to some incredible, kind, fun people we me. Thanks, among many others, Pavel and Michael, Zoha, and the incredible team of Deniz who again worked hard on the Land Cruiser.
At last, late July, we managed to find a way into Kyrgyzstan and cooler temperatures.
Uzbekistan, it's been a pleasure and privilege to visit you!
Read More: Overland Travel in Kyrgyzstan
Index for our Our Uzbekistan Travel Budget Report
Our Overland Travel Information Pages for Uzbekistan consists of two parts: The Uzbekistan Overland Travel Guide, and this is the Uzbekistan Travel Budget Report.
Money Matters
Our Uzbekistan Travel-budget Pie
Documentation (Visa & Temporary Import Document)
The Land Cruiser Repairs &Maintenance
Diesel & Gas Stations
Public Transport
Sightseeing
Accommodation & Camping
Other Expenditures
Money Matters
The Uzbekistan currency is so'm (UZS). In November 2021 the rate was 12,279 sum to a euro (in 9,552 sum to a US dollar).
Banknotes: 1,000 / 5,000 / 10,000 / 50,000 / 100,000 (as well as 200 and 500 but not much; I kept a 200 note as a souvenir, which has the beautiful portico detail of one of the famous Registran madrassas in Uzbekistan on it). There are coins but not used that much.
Use of ATM / Bring Dollars or Euros?
Until not too long ago, travelers brought US dollars or Euros and exchanged them for so'm on the black market. Those days are over. You will get the same exchange rate. That doesn't mean that getting money from ATMs is a matter of course.
Our experiences are as follows:
We found Asaka Bank ATMs accepting Maestro in Khorog and Tashkent.
In Tashkent we found working ATMs in the Lotte Hotel and MIR hotel.
In Samarkand we withdrew money from OFB.
All ATMs charged for the withdrawal, about 1,5%
Don't wait with withdrawing money until you run out! The ATMs aren't necessarily working/filled up ever day.
General note: Since the death of the previous president, Karimov, things have been changing rapidly in Uzbekistan very quickly. This means (travel) information is quickly outdated. Caravanistan keeps its information very up to date. For money issues in Uzbekistan, check here.
Travel Stats for Uzbekistan
Telephone code: +998
Time: UTC (GMT) +5
Electric Voltage: 220AC (50Hz)
Weights and Measures: Metric
Our Uzbekistan Travel Budget Report
Travel Stats for Uzbekistan
Time traveled in Uzbekistan: 58 days (Oct/Nov '19 & January '20)
Total kilometers driven: 2579 kilometers
Average km/day: 54
Average expenditure: € 35 /day (2 persons)
3. Documentation (Visa / Registration & Temporary Import Document)
3a- Visa for Uzbekistan
For many countries, visa requirements have changed in 2019. Since this is relatively recent, so don't be surprised if many websites/blog posts/guidebooks tell you otherwise.
Today this is the situation:
Europeans get a 30-day visa on arrival, which is free of charge.
LOI (Letter of Invitation) is no longer required.
Visa can't be extended but a visa run should be possible. As far is understood by Caravanistan, there is no restriction on how long you have to stay outside the country before you can return (but doesn't know of anybody yet who has tried).
3b- Mandatory Registration Slips
The government requires you to collect registration slips from all the hotels/guesthouses you stayed at. Not providing these registration slips means a fine and probably a lot of hassle.
This mandatory registering is a bit of a problem for overlanders who hardly – if ever – stay in hotels. Some go to hotels and for a small fee just get a registration slip.
During our first visit (Nov '19) we had heard about the registration system but not really taken in how serious it was and, tending to ignore bureaucracy whenever possible, had forgotten all about it. Towards the end of our stay, a kind employee in a hotel helped us out, which is a story for another day. Luckily so, because when exiting Uzbekistan the first time (Nov' 19), the customs official asked me for them. He didn't ask Coen's.
The second time we solved it properly. It turns out there is an app. If you register there, you're good to go. How it works:
You pay 10,000 so'm (about 1 US dollar) per day that you plan to stay. See it as a tourist tax.
The tricky part: you need a local to do the payment for you. It can't be done with a foreign credit/debit card.
(Most/many?) locals have a type of virtual card that they use for all kinds of things, among which public transportation. It uses a deposit system that is linked to a telephone number. So ask a local to help you.
The local pays for you with his/her card, you pay back in cash.
This then frees you up from any other hassle of getting registration slips throughout your stay. Recommended.
3c- Carnet de Passage / Temporary Import Document for Uzbekistan
You don't need a Carnet de Passage for Uzbekistan. You are issued with a Temporary Import Document (TID) for your vehicle at the border.
Contrary to your visa, which is valid for 30, your TID is valid for 3 months.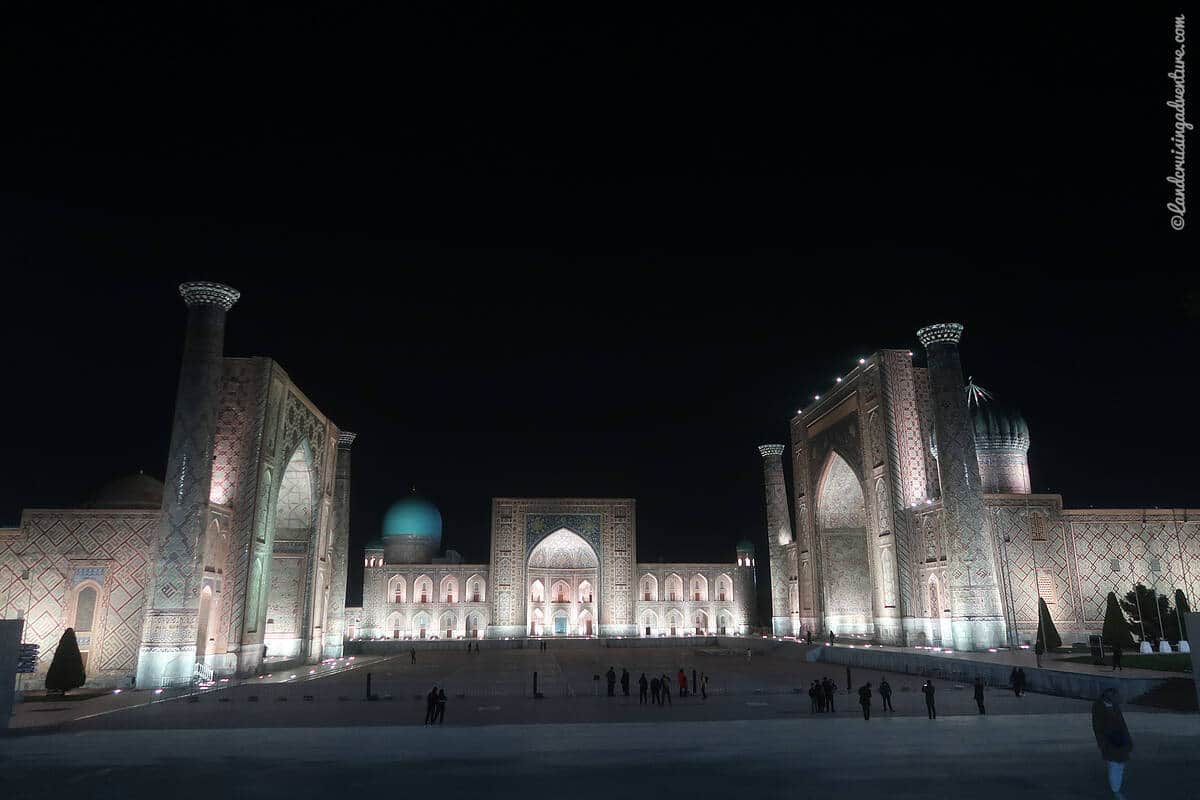 4. the Land Cruiser; Car Troubles in Uzbekistan
During our first visit, the household batteries failed when we were in southern Uzbekistan, thoroughly enjoying the Silk Road sites in and around Termez.
The only place to get AGM or GEL batteries, however, was in Tashkent so we drove there. We got them replaced + had a new holder made for them attached to the chassis.
There have been a number of other issues that needed to be solved such as the power steering system. Deniz and his time, who helped us with the car battery holder, were again a great help. Thanks so much!
Read More: The Quest for Car Batteries in Tashkent (Uzbekistan)
5. Diesel & Gas Stations in Uzbekistan
There is a lot of speculation on forums and Facebook groups about the availability of fuel in Uzbekistan. The Uzbek cars drive on gas and so everywhere you'll see gas stations along the side of the road everywhere (not all of them are open, though). They sell two kinds of gas: methane and propane.
Gasoline and diesel is less common and the petrol stations are smaller. Don't expect to find them in every village or town and don't drive on until you almost run out. When you find a petrol/diesel station, fuel up! That may save you lots of trouble down the road, especially in the remote, western part of the country.
Our experiences in finding diesel:
We had a full tank coming from Tajikistan (border of Denau). Fueled up in Termez, near Temur Gate, and Tashkent (2019).
Coming from Kazakhstan on the west side, we had brought two 20-liter canisters with diesel from Kazakhstan so we only needed to fuel up in Nukus. Subsequently filled up in Khiva, Bukhara, and Tashkent (2019).
Tashkent and surroundings, including Fergana Valley: no problem (2021).
July 2021: 1 liter of diesel costs around UZS 7500 (€0,61 / $0,70)
6. Public Transport in Uzbekistan
Tashkent – Metro
In Tashkent, you can leave your car parked to 'do the sites' and use the metro. Tashkent has a fantastic metro system with three lines. The metros and metro stations are clean and safe. Just try to avoid rush hour when it gets crowded.
The blue token costs a mere 1400 som (€0,11). You can use the token until you actually leave a metro station. So changing lines doesn't cost you extra. Tip: stop along the way to check out some of the fabulous platforms.
Here is a complete guide to the metro station in Tashkent.
Tashkent – Yandex
Tashkent (but no other city in Uzbekistan) makes use of Yandex (the local version of Uber). How does it work:
You need to register with a telephone number. This you need to do only once, so if you did this in another Yandex-using country, you won't have to do it again. (Of course they can't call you back then if you have switched telephone numbers).
The Yandex app is in Russian and is very slow. Fortunately the Yandex app is connected with Maps me. So, in Mapsme you can see the prices and can order a Yandex from there.
Whether you use the app or Mapsme, you need to be online to order a Yandex.
Taxis
In Tashkent as well as any other city you can find taxis and buses. We haven't used them.
7. Sightseeing in Uzbekistan
Of all Central Asian countries, Uzbekistan is the one you visit because you love sightseeing. The best of the best architectural masterpieces dating to the Silk Road era and Islam architecture are here, in Uzbekistan.
Samarkand, Bukhara, and Khiva (Ichan Kala) are the three most famous cities on the list, but don't forget Termez or Shahrisabz, both which are worth a visit too. Especially Termez has a number of much older sites to, dating to the era of Alexander the Great and when Buddhism was the region's main religion. Find our story here.
If you're a long-term overlander, Uzbekistan is a great place to invite your parents of friends for a short visit and check out these cities together. We did, as I know of a number of fellow overlanders who did too.
Most of these famous sites levy an entrance fee but even though some of them are UNESCO World Heritage Sites, the entrance fees are super reasonable. Expect on average to pay 15,000 or 20,000 so'm (€1,22 – €1,63).
8. Accommodation & Camping in Uzbekistan
Since we were traveling with family to visit the important tourist attractions, we were in for a treat. We stayed in more hotels than we usually do that most certainly much more luxurious than we are used to.
So if you're looking upscale-market hotels in Uzbekistan, we can recommend the Lotte Palace Hotel in Tashkent but more so, the super stylishly decorated and hospitable Amelia Guesthouse in Bukhara.
Camping wasn't of utmost important to us in Uzbekistan. Especially when traveling in winter and we're staying inside the vehicle most of the time, we can't be bothered looking for the best of the best spots. Uzbekistan being large and empty, it was no problem finding a quiet place for the night. Nor was it a problem camping in cities.
We felt safe wild camping in Uzbekistan.
9. Other Expenditures
I keep a journal with the above-mentioned travel-budget expenditures. All money spent minus these registered expenditures is Other Expenditures. This basically comes to money spent on groceries and eating out.
Tips, Suggestions, Feedback?
We hope you find this Uzbekistan Travel Budget Guide useful. Do you have questions or your own experiences to add? Feel free to do so in the comment section below. Thanks!
Don't forget to check out the Uzbekistan Overland Travel Guide, which gives an elaborate overview of all things related to roads, roadmaps, navigation, traffic rules, and traffic police, language, apps, SIM cards, WiFi, and more.
Read More: Chores when Overlanding
Check it out: The Landcruising Adventure Sticker Collection
Get the News
Would you like to stay in the loop on all things Landcruising Adventure?
Sign up for our newsletter and get the latest news
No spam, rare enough so as not to annoy, and easy to unsubscribe from.

Inspired? Pin it to your Pinterest Travel Boards
(Click on the image to pin it)
More Overland Travel Guides: