Here is our overview Colombia Travel Guide where we cruised around for some four months. If you have anything to add, feel free to do so in the comment section below. We appreciate it.
Index for the Colombia Travel Guide
1- Our Traveled Route
2- Border Crossing
3- Safety Issues
4- Our Travel Budget
The Travel Budget is divided up in:
4-1 Documentation (Visa & Temporary Import Document)
4-2 The Land Cruiser
4-3 Diesel & Gas Stations4
4-4 Public Transport
4-5 Sightseeing
4-6 Accommodation & Camping
4-7 Other Expenditures
1- Our Traveled Route in Colombia
Traveled Route in Colombia (Nov '14 – Feb '15)
Total days traveled: 139
2- Border Crossings
From Ecuador we crossed into Colombia via the border town of San Miguel. This small border crossing is located east of the main border crossing on the Pan Americana that most overlanders take. Since the state of Putumayo (on the Colombian side), has been a FARC stronghold for a long time, you should check whether the area is safe or not.
We did all paperwork for both Ecuador and Colombia in just one building on the Ecuadorian side of the San Miguel River. It's a big blue building that you can't miss. The paperwork went smoothly and took no more than half an hour.
Read More: The Border Crossing of San Miguel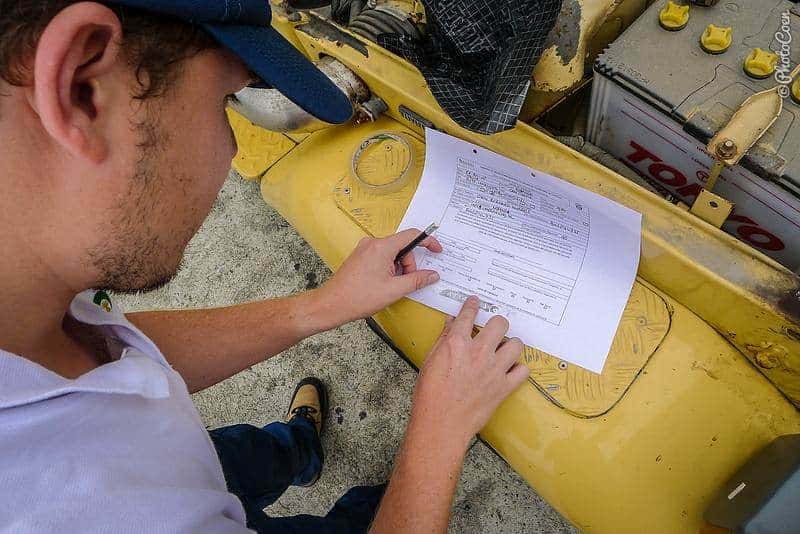 3- Safety Issues
Colombia is still one of the more troubled countries on the continent and some regions are unsafe to travel. You will see more soldiers, tanks and encounter more checkpoints than elsewhere in South America (maybe with the exception of Venezuela).
Did we feel unsafe? No.
Did we worry? A bit more than usual.
What did we do about it? We asked around a lot before going to far-away regions, off-the-beaten-track destinations, and driving off-road in general.
Read More: How do You Determine the Safety of a Region
Our experiences? The one time it didn't feel good to drive into the countryside, southeast of Cali, we returned to the Pan Americana with an escort from the local police. Other than that we felt safe, as well felt that the police officers and soldiers were on our hand, giving us no trouble at all.
Did we travel in any tricky areas? Yes.
Would you recommend traveling to Colombia? Yes, but like stated above, be more aware of where you are, where you want to go, and what is the best / safest way to get there.
Read More: Taking Risks? A Trip to the Quibdó Region
4- Our Travel Budget in Colombia
Time spent in Colombia: 139 days.
Average distance covered: 36 kms/day.
Average expenditure: € 24 / day (2 persons).
A big chunk for the Land Cruiser because we bought five new tires. More about that in section 4-2. Land Cruiser (below).

Money Matters
In Colombia they use pesos, for which in writing they use $ or COP$.
February 2015: 1000 pesos = €0,36 / US $0,41.
4-1 Documentation – Visa & Temporary Import Document (TID)
Visa
Our three-month visas were free of charge (Europeans), which we received at the border.
We arranged a visa extension in Bogotá, for which you do pay. The process is straightforward:
Where to go:
The Cancillería Ministerio de Relaciones Exteriores
Calle 100 # 11b-27
Bogotá, Colombia
Open 8:00 am – 4:00 pm
gps: 4.684325, -74.044840
What to bring:
Passport.
One photocopy of passport's information page (there are photocopy places near the Ministerio).
One photocopy of the passport's visa-stamp page.
One passport photo.
Local address of a friend or a hotel, as well as your blood type (yes, odd, I know).
Credit or debit card. This is the quickest way to get through the system. Otherwise you have to walk four blocks to the Banco Occidente to deposit the 78.300 COP (January 2015, see below for updated price sheet).
The earlier you get there the better. You will be given a form to fill in, you pay the fee, and you get your extension. It may be good to bring car papers as well, as officially you need proof of leaving the country by means of an airline ticket, but they didn't ask me for that.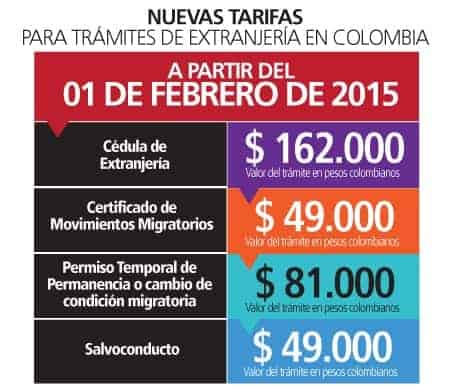 Carnet de Passage & TID
You don't need a Carnet de Passage for Colombia. At the border you are issued with a Temporary Import Document (TID) for your vehicle, which is valid for three months.
Like the visa, we extended it in Bogotá. It was far from straightforward, demanding patience and perseverance, but we succeeded.
Where to go:
Centro Administrativo de Carga
Calle 26 (Avenida El Dorado) No. 106 – 39 Piso 3.
This is near the airport.
GPS Waypoint: 4.692435, -74.135833
section: Prorrogas
contact person: Nestor Garcia / Margarita
Phone: +57 1 6543232
Opening hours: 7 am – 4:30 pm
What to bring (there is a copy place downstairs):
Your Temporary Import Document + one copy.
Passport + one copy.
Car papers + one copy.
SOAT or other car insurance papers + one copy.
Process:
You will have to fill in a form called Solicitud Prorroga de vehículo de turista.
This, together with your copies, will be stamped with the date.
Your request for an extension will enter the red-tape mill.
They told me the processing would take three days and that I would receive the document per email. Luckily we didn't travel but waited around. No email. I called and subsequently was sent from pillar to post. Eventually I drove to the office once more and sat down, making it very clear I wasn't leaving without those extension papers. I left a content man.
Read More: Having Fun on the Road – The Amagá Railroad Bridge
4-2 The Land Cruiser
Failure of the Start Engine
In San Agustín the start engine suddenly stopped. Coen took it out and noticed a worn contact plate. Not something simple as the brushes, as he expected. Fortunately, the owner of the Hostel Hacienda Anacoana knew a mechanic who could fix the problem in two days (he needed to order a part) for $50,000.
Maintenance in Bogotá
As we travel the to-do lists never end. One of them is dedicated to the Land Cruiser. Most often it concerns issues that needn't to be addressed right away but "One day – when the time and place is there". Coen had had contact with Iguana 4×4 workshop in Bogotá (and Barranquilla) for a long time and felt this was the place to go to get some of those items off the list.
The manager Jesús welcomed us, allowing us to camp in his workshop (use of toilet and shower, but you can't leave at night nor from Saturday afternoon until Monday morning). Coen did as many jobs himself as possible. He enjoyed working with Jesús as well as the mechanics who gave a helping hand when needed.
Jobs done, among other things:
Replacement of engine mounts as one had broken.
Installed a pvc tube on the roof rack for the awning as the old bag was totally worn by the weather and we wanted a long-term solution.
Replaced air-intake elbow.
Fixed two cracks in the radiator.
Complete overhaul of the front axle.
Replaced all tie-rod ends.
New brake pads on the front
Read More: Iguana 4×4 Workshop – Artistic Details
Last but not least, after numerous flats, the tires were really gone. The idea was to buy new tires in Venezuela where they should be cheaper than in Colombia. But after checking various sources we concluded that it would be difficult to get the tires with our magic numbers on them in Venezuela, and pulled the trigger on getting them in Bogotá.
In hindsight we are happy with that decision. Although we have seen our magic-numbers-tires in Venezuela, the old tires wouldn't have made it across Los Llanos in Colombia.
Read More: The Magic-number Car Tires for Overlanding
4-3 Diesel, Road Conditions, Roads & Maps
Diesel & Gas Stations
Diesel: in Colombian Spanish = Diesel or ACPM (which stands for Aceite Combustible Para Motores).
Gasoline: In Colombian Spanish = Gasolina or Corriente.

Colombia uses gallons and there are 3.76 liters to the gallon.
Prices may differ per gas station; the Colombian government sets only a maximum price. We traveled from the Ecuadorian border to Bogotá so haven't explored the northern provinces yet, but we'd say the average price for diesel now (Feb '15) lies around 8000-8500 pesos per gallon.
We had no problem finding gas stations.
Read More: Country Travel Guides
Road Condition & Check Points
Depending on the area there was a lot of military presence or not. To give you an idea:
San Miguel border to Mocoa: Partly unpaved, partly paved. Lots of military presence, checkpoints, and oil spillage due to guerrilla attacks. All officers nice and helpful.
Mocoa to San Agustín: Paved. Lots of military presence and checkpoints but we never had to stop.
San Agustín to Popayán: Long, beautiful drive through extraordinary scenery over a partly paved and a partly very badly maintained unpaved road. Few checkpoints and in some places soldiers alongside the road.
From Cali we couldn't drive down to Tierradentro via the dirt road east of the PanAm. It's a region full of marijuana plantations, guerrilla presence and apparently still a tense area.
Farther north, around Bogotá, Villa de Leyva, Medellín, and the coffee region we came across very few soldiers and checkpoints.
Main roads were often asphalted but there were plenty of opportunities to take minor, unpaved roads that traversed stunning regions.
Toll Roads
Compared to other South American countries, the toll fees in Colombia are outrageous. We paid between 6800-11400 pesos at each toll booth. On average the tolls cost us about 60 eurocents per day. Having said that, by taking the minor roads you can avoid a lot of them.
Road Maps & Guidebooks
We traveled with a Lonely Planet travel guide as usual but were disappointed with their latest issue on Colombia (2012). It contains endless lists of hotels and restaurants, and talks about only the main tourist attractions. Hopefully future editions are better.
There are a number of local guidebooks. Some are available in Spanish only, others in English as well. Ask at the tourist information because these books give much better ideas about lesser-known destinations and sites.
At several tourist information centers we found regional maps that were a great addition to our general Reise Knowhow Map of Colombia (1:1,400,000).
4-4 Public Transport
Nothing of note in Colombia
4-5 Tickets Sightseeing
Parqueaderos / parking lots
In bigger cities we left the vehicle in paid parking lots while we went sightseeing. This is not common practice for us but somehow it felt wise to do so here.
Popayán: avg. $1000 per hour
Cali: avg. $2500 per hour or starting 2nd hr $1600.
We loved traveling in Colombia and saw a lot of beautiful things. We visited the main attractions such as San Agustín (10,000 pesos pp), Tierradentro (20,000 pesos pp), the salt mines of Zipaquira (23,000 pesos pp) and Nemocón (21,000 pesos pp), and the colonial town of Villa de Leyva.
Having said that, especially driving the minor roads brought us to some fabulous sights and destinations. It's too much to mention all that on this page; I'll do extra blogs on the subjects.
4-6 Accommodation & Camping
We stayed:
In parking lots of hostels (e.g. Casa del Río in Mocoa).
In parking lots of sights, e.g. San Agustín.
In streets in on plazas (e.g. Popayan, Neiva, Silvia).
In parking lots of thermal baths (e.g. Agua Hirviendo) and amusement parks (e.g. Cali).
Read More: Accommodation & Camping in Colombia
4-7 Other Expenditures
Everything mentioned above minus what we totally spent is what we call daily expenditures. This is mostly groceries and going out for lunch/dinner.
Check out: The Landcruising Adventure Sketchy-Ride T-Shirt Collection
Support Landcruising Adventure
Through your contribution or purchase in our shop you help us keeping this website online and sharing the wonderful vibes of overlanding.
How's that for a Win-Win?
Check out our Support Page and see what contribution suits you best. There are free and paid options and all help to keep this website going.
Thanks, and enjoy the ride.
Inspired? Pin it to your Pinterest Travel Boards
(click on the image to pin it)
More on Colombia: