"I'm here to tell you that your husband will be the last to arrive, but he is alive," Victor said, walking up to me.
I laughed.
"Yes, I already heard that. And that he is cold," I responded.
I stood waiting next to the plastic, red-white line on the ground, his down jacket in my hand, ready to throw it on his shoulders. I had hiked to the snowy top of the Falaza Mountain and back, 5 kilometers up and 5 kilometers down, and felt the muscles in my legs.
This, however, was nothing compared to running up and down that same, steep trail, plus running an additional 30+ kilometer, as Coen had on this challenging Mount Falaza Trail Run. Not just that, a part of this trail wasn't even a trail. Parts consisted of rock climbing/clambering or fighting his way uphill over scree; two steps up, one step sliding down again.
After 7,5 hours and with the sun long having disappeared behind the clouds and dipped beyond the mountains, Coen was still out in the woods in shorts and on minimalist (five-finger Vibram) shoes without any cushioning. At least he wore a long-sleeved woolen merino shirt and a thin windstopper jacket. While early autumn, the mountaintop was covered in snow and the nights brought freezing temperatures.
A beautiful, inspiring day was coming to an end.
The Train Ride to the Falaza Mountains
Yesterday morning we had taken the slow train from Vladivostok; the 120 kilometers or so had taken two and a half hours. The early morning light cast warm colors across the bay and through the trees, most of which had lost their leaves.
We watched the world go by, from urban scenery to harvested fields interspersed with hamlets with houses of wood or stone. We arrived in a hamlet and I walked into the first building along the tracks in search of a toilet. But clearly I was not supposed to go here, and a man walked after me.
The Toilet
"где туалет?" (Where is the toilet) I asked.
"туалет tam, he answered.
Lo and behold, I had made myself understood and figured out what his answer meant. In any new language, 'toilet' is among my first vocabulary. Frustratingly, after all those months in Korea I had never managed to pronounce the Korean word – "hwajansil" – in such a way that people understood what I was asking.
"Over there," he had answered.
It was a bit vague, but we walked back outside. The toilet was behind a metal door and consisted of a hole in the ground. No Korean or Japanese toilets here: clean, with toilet paper and water. In that respect, we left paradise.
Read More: Overland Travel Budget Report on Russia
Annoying as it is, it is something we always do on arrival in a new country: despite knowing how useless (and often unfair) it is, we compare things/places/people with the place (country) we have just come from. But I've learned that this is a few-day issue; it will disappear as we stay longer in any given place and take it in 'as it is' rather than 'compared to X, Y, or Z'.
Anyway, with an empty bladder I inhaled the crisp air of the countryside hemmed in by forested mountains. A small convenience store was open. No fresh coffee (only cold coffee in cans) but the owner did sell muffins and a kind of cookies that we like – in the Netherlands called taaitaai – and bought a bag of them.
Check it out: the Landcruising Adventure Sticker, Magnet & Pin Collection
We hoisted our Montane backpacks [get them here] and set out for the 7-km hike uphill to a mountain cabin-cum-hotel, passing barns, wooden houses, harvested vegetable fields fenced in by wire. After a while houses were no longer visible from the road because of high, wooden fences. Was this for privacy or to protect them from the dust when tons of weekend visitors and vacationers drove up and down the unpaved road? Many houses advertised with signs "banya" – hot baths.
Later this weekend I learned about the origins of this village. There used to be two camps in the middle of nowhere. One was for political prisoners, and a second was built for Japanese prisoners of war. Eventually, the Japanese were sent home and the political were released from prison. However, the latter were not allowed to return home but had to settle here, colonizing the area.
As the road meandered uphill, the village made way for the forest. It was such a leisurely, beautiful walk.
Read More: Hiking in Jirisan National Park
The Cabin-cum-Hotel
At the foot of a hill stood the building we were looking for. The adjacent short ski lift had not yet been equipped for winter to take snowboarders and skiers uphill. From the veranda with picnic tables we looked up slopes partly covered in autumn colors but also partly covered in snow.
A couple of men stood chatting and we asked for Alexya, the organizer of the trail-running event. He hadn't arrived yet. Our (late) request to him to book a room hadn't reached this place, but the caretaker informed us there was one room left for Friday night and Saturday night we could sleep on the ground. The latter was the common way to sleep for many of the 100 runners who joined the event.
Read More: Our Favorite Hiking Gear after 2 Thru Hikes
The Gear, The Food, & The Room
Four men had driven all night to drive the 600 kms from a city north of here. They discussed the run and climate. The men judged that Coen's outfit didn't do at all, and we realized we had always run in summer or tropical climates. Alex handed Coen one of his windstopper jackets, a gesture for which Coen would be extremely grateful the following day.
No, there was no food and no there was no coffee but we had brought oatmeal and lentils and could use the kitchen. The room consisted of a mattress on the floor, a couple of blankets and sheets put in a corner. With all guests we shared three toilets and one shower. The toilet paper was, like in Vladivostok, of rough, crepe-like paper. No towels and we hadn't brought any, but a T-shirt would do.
After all the cleanliness and organized ways of Japan and Korea (yes, there it is again, the comparison) – which are wonderful but in some ways also always felt somewhat not of this world – we were back in the 'real' world as the one we had mostly known during our first 12 hours of travel. Each has its charm.
The Drinks & The Training
More surprises we noticed that evening. There was no vodka! No beer! No alcohol! Weren't we in Russia? No smoking either. The running community was a very healthy one. In fact, one runner told me that this was what appealed so much to him. With family members smoking and drinking too much, he had felt the temptation of alcohol in his early twenties.
"When I was 23, I felt I had to take THE decision: a life of alcohol, or of running and being healthy. I chose the latter."
He was training fanatically and trying all kinds of things: running on a course, in the city on asphalt and had recently run his first marathon in Vladivostok. This was his first mountain run and decided to stick to the 11-km course.
Victor, a Catholic priest, had started running only last year and had found a new passion. This was his first mountain trail and he had visited the region a couple of times to train here. He felt ready for the 11-km run. Most ran the 11-km trail. Only 20 or had signed up for the 39-km and 50-km run.
We had arrived early, to be in time for the 4-o'clock briefing as the website mentioned. But at 4 o'clock only a few people had arrived, and no organizer. The briefing turned out to be at 10 pm. The start would be at 8 or 8.30am.
We didn't mind at all but it was a good reminder to better bring your flexibility to this country.
Read More: Hiking in Seoraksan National Park
The Run
Coen fretted all morning, as he does before any run, (reorganizing his pack, which he already packed last night) checking his water, food ("Do I have enough? Do I have too much?"), fumbling with his gear ("Do I listen to a podcast or not"), and clothes ("Is this not too warm?" not being used wearing long sleeves, let alone two layers). He doesn't mind the sweating, the discomfort that is inherent to physically challenging yourself, but his stuff needs to be in order.
At eight thirty we cheered the runners at the start and off they went. Coen last. His mind was on going slow, on finishing without injuries and especially to enjoy the day and the run. His longest run ever had been 26 kms and that was in hills, not mountains. His longest mountain run, only weeks earlier, had been 22 kms. So to jump to 39 kms – well, 43,6 as it turned out – was yes, a massive jump.
Read More: Overland Travel Information on Russia
The Hike
I had decided not to run the 11 kms as I'm still troubled by an old injury and with the 650-km hike in Jordan ahead of us (in December/January), I am not taking any chances. However, the weather was way too beautiful to stay put. I joined Ana and Kathy uphill, who were going to man the last two checkpoints. The hike was Baekdu-daegan-style steep (that means very steep), through the forest.
"Go to the top," they encouraged me. "It's another 3 kms."
With the surroundings being so beautiful, it took no effort to enjoy the walk. The brown soil got a couple of white speckles, white patches, white stretches and before I knew it I was walking in the snow. What a joy! It was reminiscent of our hike last year in Yakushima, Japan.
Snow turned to ice, the steep trail became slippery due to a large number of day hikers using it. Pulling myself up using trees and tree branches I almost reached the top when the first runner was flying down – he had been running a bit over four hours to cover the first 33 kms. Number two followed a few minutes later.
At the top hikers sat on stones eating lunch, taking selfies and taking in views. A group of hikers arrived, one of them lighting a bonfire. I appreciated the heat as it was around 0 degrees Celsius. One after the other runner came flying by after which the strugglers arrived. It was fun to watch. But no Coen.
Read More: Hiking on Yakushima Island
The Waiting
One and a half hours later and with the sun behind the clouds I was chilled to the bone. 66 runners had passed when I started my descent down the slippery, icy trail, holding on to trees without gloves, which was freezing my fingers. I was happy to step on steady forest ground again.
At the last checkpoint, Kathy stood waiting for the last runners. She had grown cold and I gave her my jacket. For me it was just another 2 kms down.
Back at the hut-cum-hotel, 'everybody' asked,
"Where is Coen?!"
"What! Still up there?" shaking their heads.
With his shoes, shorts and never having run so far before many were worried and/or anxious combined with a fair share of curiosity.
"How is he doing that?!"
Contrary to Coen, who only cared about enjoying the run, these guys were here for going as fast as possible, breaking their records or finishing with a place on the podium.
"I have to interview him," Victor, the Catholic priest said. "How do you go from 26 to 39 kms and then on such terrain?"
He shook his head in bewilderment.
The last checkpoint was at 36 kms. That should have heralded the last 3 kms, but already this morning we had understood the trail was 41 kms. However, one of the runners said his GPS had measured 43 kms (and Coen's would say 43,6 kms).
Having missed him at the checkpoints I was set on seeing him finish. I went outside when Kathy returned, who handed me back my jacket.
"I saw your husband. He is not tired but very cold." (Coen, however, disputes that this is what he said, or at least he can't remember it – maybe he just looked cold to her).
For more than an hour we stood waiting outside, cheering on when, little by little, the last ones rounded the last corner and made for the finish.
Read More: Books about Russia
The Finish
It was after five when Coen turned that corner, taking his typical tiny steps and with a face that told me he could have done another 10K, had he needed to. This guy knows how to run, my god! Cold, yes, sore feet due to the minimalist shoes, yes. Otherwise totally fine.
"It was beautiful. It was wonderful," he said with a wide grin on his face.
We came to Russia for a short week because only with a Russian tourist visa in our passport can we apply for a long (one-year) business visa, which is what we'll do next spring. In March/April we'll put the Land Cruiser on the ferry in South Korea to Vladivostok, from where we'll start our long journey west, through Siberia, Mongolia and the Stans.
Based on our first days here, we can say that we super excited about the next phase of our overland journey
Update, July 2018: that next phase started with a ferry crossing and an off-road adventure).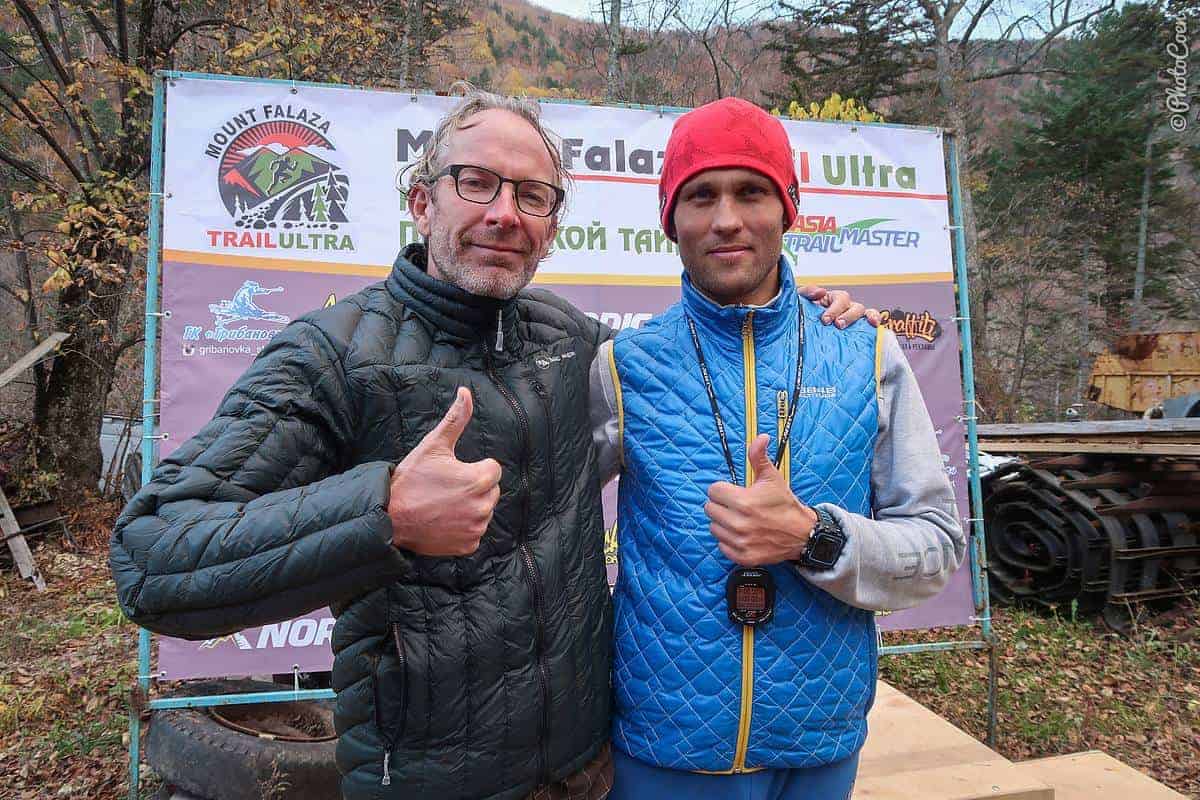 Join Landcruising Adventure
By purchasing a Landcruising Adventure T-shirt (or other merchandise) you contribute to keeping this website (and our social media posts) going and sharing the wonderful vibes of overlanding.
How's that for a win-win?
Thanks, and enjoy the ride!

More on Russia: