Maybe I have a totally wrong, or one-sided image based on my own experiences, but I feel that when men talk about preparing for their overland vehicle, it's about suspension, tires, recovery gear, and engine size.
That made me wonder what women's overland-vehicle requirements are. Mine, for example, was that the rig couldn't be black (and, yes, that was important).
So, I asked the question to a number of women overlanders and here's what they say.
Check it out: the Landcruising Adventure Racerback Tank Top Collection
1. Julie Truck
Nationality: British
Journey: I am traveling with my husband Marcus around the world, or maybe just until we've had enough! So far, after 4 years through Europe, Africa and South America we're still loving it, so we'll move on to Central America in Jan '18.
Must-have Overland Gear / Overland-vehicle requirement:
I had to have a toilet.
We'd previously done Africa with a rooftop tent. It was great fun but going out in the bush after dark when there are lions, hyenas and leopards around couldn't be a longer-term lifestyle for me.
Julie and Marcus constantly update their website with new, inspiring blog posts. Find them here.
2. Jen Usinger
Nationality: North American
Journey: My husband and I shipped our vehicle to Cape Town, South Africa, in December 2016. Our goal is to drive Africa from bottom to top, via the West Coast, and eventually take the ferry from Morocco to Spain.
We anticipate our journey will be about 2 years, though we are budget dependent, so we will see. Thus far we have visited South Africa, Madagascar, Namibia, Botswana, Zimbabwe and Mozambique.
Must-have Overland Gear / Overland-vehicle requirement:
I did not have too much input into the vehicle, by choice as we owned it already. However, I am on the shorter side so I needed:
A proper step to get in and out of the vehicle.
The fenders needed to support a person on them so I could help with items on the roof.3.
And there needed to be a ladder so I could climb onto the roof rack.
And we must have aircon.
Follow Jen's adventures on her website.
3. Joanie Pepin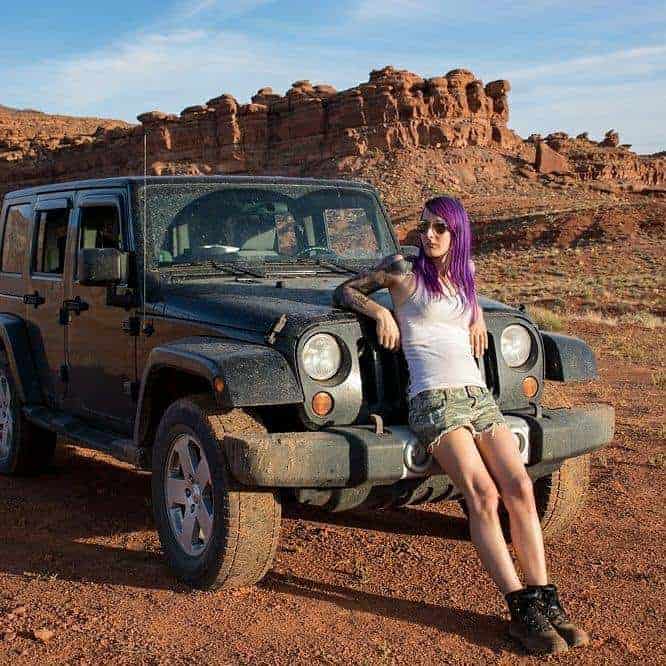 Nationality: French Canadian
Journey: My journey began with what was meant to be a weekend road trip with a friend, back in 2014, but she bailed on me at the last minute, so I went by myself instead. I had so much fun and met so many people that I drove across Canada. I was hooked! A year later I went across the US and honestly thought that was it, but then came the idea in my mind: Is it possible to drive to South America?
I looked online and found that not only is there a lot of people doing that trip every year, that there are also so many communities of people traveling with their vehicle. So now my goal was clear, I bought a 2010 Jeep that I modified myself (and I'm a total nerd and had no experience with that, but it was important for me to do it myself) and I am leaving for my Pan-American journey in May 2018.
Must-have Overland Gear / Overland-vehicle requirement:
I always loved Jeeps but never had a reason to have one. I didn't want to be that jerk who drives a big SUV to do groceries. When I got this idea of vehicle-oriented travel, the time to finally have a reason to get my own Jeep had finally come.
While I love many of the flashy colors they are not as easy to find (I didn't buy new) and I do love black cars and never owned one, so when my dad called me to tell me he found a black Jeep with very little mileage, I jumped on it instantly.
As for the secondary priorities, I wanted space to sleep inside. I love camping in a tent, but having that possibility makes things so simple. It also needed to be stylish. It's my home so I need to love living in it. I went with a black blanket and purple cushions because I just *love* that color combo.
I used Plasti Dip on the bumper to make it purple and it looked great, but with the sun blasting on it all the time, the purple turned whitish so I had to rip it off. (Now I just write stuff on it with Halloween make-up or leave sunscreen handprints on it in the desert. It's fun to do and it's easily washable. Or maybe I just have too much time…).
Find Joanie on Instagram.
4. Luisa Bell
Nationality: South African
Journey: We are a family traveling around the world for the past six years in our Land Rover Defender 130. We have traveled around southern Africa to Serengeti and circumnavigated South America, almost twice. A drive up to Alaska and across to Florida where we rebuilt our pick-up to a camper and shipped across to the UK where we are driving across to Asia.
Must-have Overland Gear / Overland-vehicle requirement:
Always loved Land Rovers and owned them before so it was a given that we would choose this vehicle. The camper conversion was a family collective design.
Follow their journey on Instagram or check out their website
5. Mayo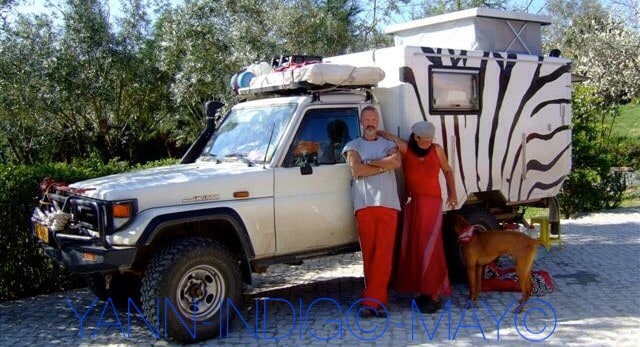 Nationality: Dutch
Journey:
With partner Yan and Rhodesian Ridgeback Indigo we drove to Turkey, Marocco and farther into Africa: from Tanger up to Saint Louis, following the Senegal River and into Mali.
Solo, but with the dog Indigo, on a sidecar motorcycle to Morocco (twice).
Must-have Overland Gear:
My partner Yann and I remodeled his Toyota HZJ79 for overlanding, ordering a custom-built cabin from Tourfactory and worked together on building its inside. We always wanted things to be multi-purpose and removable, using the K.I.S.S system: Keep It Stupid and Simple.
My girl-focus is to get things 'handy', and I need cupboards for that. I want things put away in logical places. Yann never remembered where he put his stuff; he'd ask me where he puts his stuff in the house! So I fought for a few cupboards, for clothes and kitchen gear.
My other focus was a cozy cabin. The choice of color and the female touch with the bedding, curtains and so on. My biggest input was all the inside painting and I took care of the dirty Tectyl job: the black protection stuff under the car 🙂
Just before we were about to start a new journey, Yann suddenly passed away and I became a widow. It took time to get back on my feet again, but I felt that all my travel experience (which had started long before I met Yann) helped me to get through this nightmare.
Six weeks after his death I went to the yearly Dutch overland weekend in Du Lutte. Here I met the Dutch "Tractor Girl" who had driven from the Netherlands to the South Pole on a tractor – with her dog. I realized I could do that too! At that moment, a motor sidecar drove into the campsite and a new dream was born.
With my dog I drove to Morocco twice and next is a trip to Iran.
6. Jess Collins
Nationality: Australian
Journey: Jess and her boyfriend Scott, and two dogs, shipped our Land Cruiser from Australia to Los Angeles on Jan 2016 and have traveled in the US and Canada and will need more years to travel down all the Americas.
Must-have Overland Gear / Overland-vehicle requirement:
I found this note I wrote when we were thinking about what we wanted to get.
List of things I want in our car:
able to sleep in its butt
aircon
high clearance
4WD capability
We ended up all of those things in the form of a Land Cruiser Troopcarrier.
7. Jennifer Myrick Sparks
Nationality: North American
Journey: My husband, Witt, & I, overlanded from the UK to South Africa along the western side of the continent in our Land Rover Defender 110 (outfitted with a rooftop tent) back in 2003-2005. More recently (2013-2015) we traveled with our young son, Quinn, in our Ford E-350 camper van as we explored the Americas on and off the Pan-American Highway.
Must-have Overland Gear / Overland-vehicle requirement:
I did most of the designing of our rig. We had to be able to sleep, eat and drive with 3 people comfortably and most setups are geared for either 2 or 4 people. Everything is a compromise in an overland rig, so priorities are really important.
We wanted the ability to cook inside and outside and to have an indoor living space for inclement weather. We also wanted full-time bed spaces. These requirements mean a larger vehicle, but we still wanted the ability to drive in cities fairly easily and be able to go off-road.
We settled on a camper van with a pop-top (converted from a Ford E-350 cargo van), with beds on the 2nd floor. We put a 3rd captains' chair in-between the driver's and passenger's so the drive seating didn't take up 2 rows in the van.
I wanted a dual-basin sink to wash/rinse dishes (& clothes) easily so we put that in, but we decided against having a grey-water tank and used a bucket instead (that we manually placed under the van when parked for the night). I also wanted an easy way to rinse off our bodies, so we installed an outdoor shower.
We also have a diesel heater for the interior cabin (which prevented our pipes from freezing too) and can also be used to heat up water for the shower or the sink.
To what their journey was all about, check out their website. And they have a specific website with practical overlanding information.
8. Amy Pierson Leichtfuss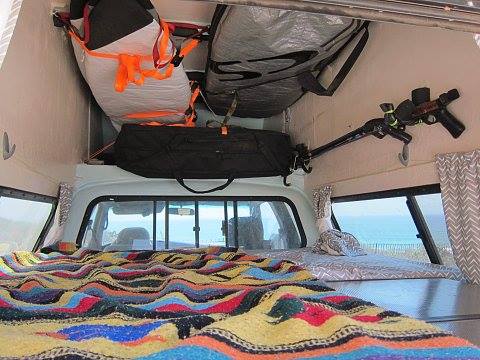 Nationality: North American
Journey: Amy and Matt are traveling in a 1995 Toyota T-100 bought in California. They have been on the road over 500 days, making money with videos detailing their journey for a You-Tube channel.
Must-have Overland Gear
I wanted to be able to sit up in bed, so Matt measured how thick our surfboards were, and how tall I am when I'm sitting (I'm taller) and added a couple more inches. He says he was very glad I made the demand.
Follow their journey here.
9. Lauri Heimbigner
Nationality: North American
Journey: My husband and are newly retired and planning on spending the next 5-8 years exploring the world. From the US they'll spend a number of months in Mexico, drive back up again but this time to travel across Canada and from where they'll ship to Europe. After that: Africa.
Must-have Overland Gear / Overland-vehicle requirement:
I was insistent on an enclosed toilet/shower with a solid door and a bed that was oriented so we could each get in and out without crawling over each other.
I also chose the bumper/grill guard because the ones my husband was looking at were ugly, and to add a rear winch so we could pull ourselves back out of trouble instead of through it.
Follow their journey on their website or Facebook.
10. Roberta Modiano
Nationality: Brazilian
Journey: This October I set off from my hometown of Rio de Janeiro with my labrador dog and a 1999 Mitsubishi Delica van conversion, driving down to Ushuaia and Patagonia in southern Argentina and Chile. Future destinations include Alaska, Scandinavia, and Japan.
Must-have Overland Gear / Overland-vehicle requirement:
I'm a newbie: I never went camping growing up nor did I take long road trips. Although I spent a sabbatical year backpacking around the world, I didn't know much about traveling and living in a vehicle, so I did a lot of research and even some experimental trips.
I was terrified of investing so much time and energy and ending feeling unsafe or tied up by the wrong vehicle. I also wanted to know if a month of traveling would be enough or if it would make me crave many more months cruising the world.
I needed some real experience before I sold all my belongings and said goodbye to my family. For the tryouts I rented a class C RV for a couple of weeks in the USA and I drove around Iceland in a 4×4 car, sleeping in a tent for 12 days. This gave me the requirements for my ideal vehicle.
As a woman traveling alone I worry for my safety, and the 3 things that would allow me a good night's sleep are:
Hard walls
A safe place to go to the bathroom in the middle of the night
Being able to go from the bed to the driver's seat without stepping out of the vehicle in case someone should show up near me in the middle of the night.
Having the dog around reassures me in many ways, as a large-sized dog can scare some ill-meaning people away, but it also comes with the requirement of lots of room for the dog's bed and food, and easy entrance to the car.
While many overlanders only cook outside, I like to be discreet when parking for the night. Being by myself, I prefer to cook and eat inside, and in some places I don't spend a lot of time outside so that people won't know that I am alone. Therefore, an indoor kitchen was another requirement.
From my experimental trips, I learned the value of indoor space for hanging out during the day when the weather is too harsh outside, but I also learned how much fun a small 4×4 can be when you want to explore any interesting-looking little dirt road you see along the way.
These little roads turned out to be my favorite parts of Iceland and my main regret when traveling in the large RV in the United States was having to stay on the main roads. As crazy as it may sound, even women traveling alone can wish for an adventure-ready vehicle.
I came up with the following list of what to look for in my future home-car:
High clearance and, if possible, 4×4 drive.
Diesel engine, if possible an old one that won't have problems with low-quality fuel or that needs an additive to run such as AdBlue.
Van-type body or class B RV, up to 6 meters in length.
Kitchen with stove, sink and refrigerator inside the van.
Compostable or cassette toilet.
A bed inside, if possible a permanent bed that you don't have to make every night.
Room for my large-sized dog's bed and a 15-kilo bag of dog food.
Good insulation for the cold weather.
The vehicle must fit into a container for shipping between continents.
Finding the overlanding vehicle that came close to this list wasn't easy at all, especially in Brazil, so I started looking in Chile, the United States and Canada. I found the perfect vehicle, and 18-year-old Japanese mini motorhome that came with all the items on the list and a reasonable price-tag. It does lack in closet space and I am trying to size down on everything, from clothes and shoes to kitchenware.
After only two months on the road, I've already learned so much! Glow plugs, CV-joints, how to take care of the car… Having an older vehicle is forcing me to learn a lot about mechanics but I'm also finding out what are the things that you really need and what you can let go. That cassette toilet, for example, I never use it even though it was one of the most important things on my requirement list!
Tips, Suggestions, Feedback?
What demands did/do you have for your overland vehicle? Do you recognize any of The best and stupidest things these overlanders brought on their journey?
We'd love to hear your must-have overland gear. Please share them below in the comment section.
Check it Out: The Tire-in-a-Mile T-shirt collection
Get the News
Would you like to stay in the loop on all things Landcruising Adventure?
Sign up for our newsletter and get the latest news.
No spam, rare enough so as not to annoy, and easy to unsubscribe from.

Inspired? Pin it to your Pinterest Overland Travel Boards
(click on the image to pin it)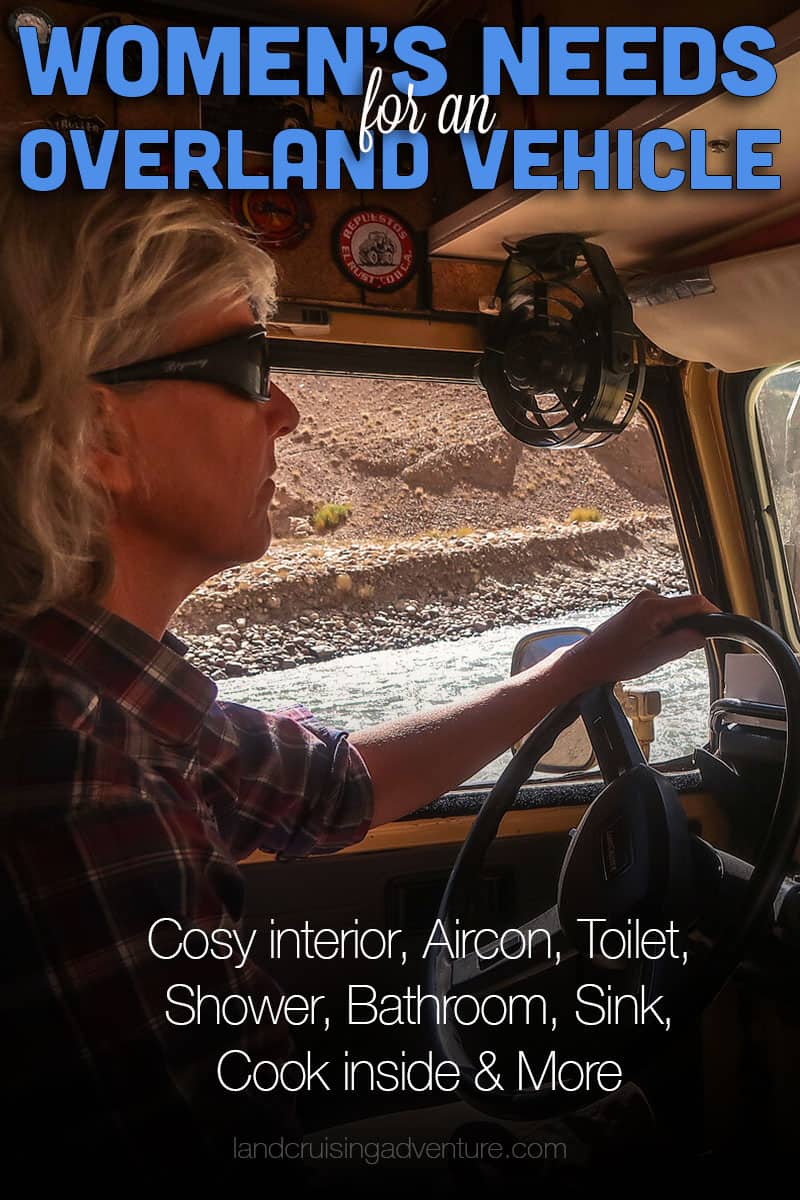 More Car Talk: