So what's the story, fat or skinny tires? In this blog post we share 13 opinions from experienced overlanders.
From the beginning of our journey, over 17 years ago, we've had a number of experiences with overland tires. Before our departure, we didn't really know anything about tires let alone what the impact could be on your driving or vehicle. Our tires have changed from cheap to expensive, from what made sense to what was available. Sometimes there is no option, like in Kazakhstan.
We were squeezing the last life out of our Japanese studless snow tires, which we had abused to the extreme during the summer in Mongolia. Coen was changing tires in minus 20˚Celsius as the metal threads were pinching the tubes every time we hit a gravel road. A local roadside tire shop provided us with the only decent second hands he had available: 215/70R16. Ridiculously small. A whopping 14% smaller. (A nice comparison tool here).
They sure gave us plenty of torque. We could drive off in third gear without a problem. Fuel-consumption suffered but it was only for some 400Ks until we reached the major city of Almaty.
Santa Claus surprised us with an extremely kind gift. That is yet another story, and part of the an extensive blog post about all the overland tires that have taken us to Asia and South America. After each purchase of new tires, Coen updates the post, and what he thinks of that particular set of tires (in case you don't know, Coen happens to be the Mr. Wubbels whom Graeme is referring to in his story below).
To know exactly what overland tires we have used where, and how they held up on the road (and the story of Santa Claus), check out that blog post:
Fat or Skinny Overland Tires – The Verdict
Contrary to our previous blog posts, in which a pool of overland experts shared their opinion on Land Rover vs Land Cruiser (find here & here), I'll let you do the counting this time.
In the 13 overlander stories below you'll find overlanders having had experience with both tires, you'll find contradicting opinions (so yes, let the campfire discussions continue!), and anecdotes of road trips. The contributions are full of practical information as well as entertaining.
One thing is clear: we all have our own experiences, all have value, and maybe there is only one conclusion to be drawn: Hit the road and find out what works best for you.
Without further ado, here they are: Fat or Skinny Overland Tires stories. Thank you Graeme, Bas, Markus, Marcel & Reni, Ferenc, Harald, Michael, Mark & Jolie, Koos, Roy & Michelle, Maarten, Ross, and Johny for sharing your stories with all of us.
Questions or your own favorite overland tire to share? Fire away in the comment section below!
01- Graeme Bell (A2A Expedition)
We have paid the price for wisdom. When we first started travelling we used a set of 32 11.5 r15 which are neither skinny nor fat and they were just right – the right look, the right feel and perfect for on and off road driving.
The wheels fell off, if you will excuse the pun, when we began touring South America. Despite my suggestion that we should buy a new set (the old set had already done 50 000 kms by the time we shipped from our home in South Africa), I was over ruled by the Minister of Finance and Correctional Services.
Man, was she wrong!
We had two blow outs in Patagonia in 2013 and took the advice of Mr. Coen Wubbles (you might know him) and swapped the 32s for the vaunted 750 16 skinnys. I hated those pizza cutters from the moment we installed them until the day they were removed, abused and set on fire.
The 750s were OK on road but terrible off road, eventually I would not even bother driving on beaches or in the dunes and we had so many flat tyres that I was spending half my life at gomerias (admittedly due to leaky old wheels scavenged from an Ushuaian junk yard and a tubed / tubeless combination).
Yes, the fuel consumption was great but that was the only positive. I could hardly look at the Landy for over a year, she was a bulldog wearing stilettos, a tank on ice skates.
The venerable Mr. Wubbles had made a recommendation based on experience and I have no doubt that he stands by his recommendation, and rightly so. And yes, skinny's are OK for an ancient Cruiser but have no place on a Defender 130.
We eventually went the complete opposite route and installed 33 12.5 R15 and they were awesome – until the wheel bearings failed one after the other and the lack of Latin American infrastructure sprayed sewerage onto an arm or we drove through the mud and had to very quickly wind up our windows.
Fuel consumption was not great with the fatties but man, those tyres were awesome in the Amazonian mud and the dunes of Lencois Maranhenses. We didn't even need to deflate the tyres, we just floated over and through the rough stuff, looking bad ass as we did it. We still use a 750 16 as a 'space saver' spare, I need to amend that.
But, I am now catching up to Mr. Wubbles age and I had decided that it is time to find a middle ground, a moderate middle between fat and skinny, size 36 trousers. We now run the 285 75 R16 General Tire X3 and we could not be happier.
They are tall, not too wide, the bearings seem to be happy, fuel consumption is acceptable and the Landy is ready for anything!
Graeme & Luisa travel with their two kids Keelan and Jessica. Follow them on A2A Expedition and You Tube. Graeme has written 5 awesome books about their travels – find them here.
02- Bas Zuidberg
For my 'new' Land Cruiser, weighing 3200 kilo, I chose the 265/75R16 overland tires. This worked just fine, only on Ethiopia's 'black cotton' they were impossible to drive, but then very few tires survive there…
My old Troopy (weighing 1000 kg less) had the classic 235/85R16. That's the metric equivalent of the original size (7.50R16).
03- Markus Tuck (Tucks Truck)
In my view, thin tyres are far better than fat tyres for overlanding.
Fat tyres might look 'cool' and work well for a weekend off-roading in a 4×4 car with a high power-to-weight ratio. They generate a fairly large footprint and therefore have quite good flotation on soft surfaces, even without deflating. Their disadvantage however, is their large frontal area to be pushed through the soft surface. This requires more power to move the vehicle, which in turn uses more fuel.
A heavy overlanding vehicle may not even have the power in a high range gear and could possibly require low range to move! The extra power required will significantly reduce the fuel range, which could be problematic for overlanding in remote areas or when there are long distances between fuel stations.
By contrast, a skinny tyre generally has a much higher profile than a fat tyre and so can be deflated to produce the same footprint size as a fat tyre when necessary. Importantly, the footprint of a deflated tyre becomes significantly longer, but not significantly wider.
So although the skinny tyre when deflated can have the same footprint area as a fat tyre, its narrower frontal profile does not require so much power to move through the soft surface. It is therefore less likely to require low range and the fuel consumption will be far lower than with fat tyres.
In soft mud (snow) there are two scenarios:
First, bottomless soft mud (snow) where the aim is to try and float on top to maximise traction. In this case, deflating to achieve the maximum footprint with minimal frontal area is best.
Secondly, a layer of soft mud (snow) on top of firmer ground. In this scenario, the aim is for the tyre to cut through the softer mud (snow) to gain traction on the firmer ground below. This isn't possible with the wide footprint of a fat tyre. However, a skinny tyre at normal pressure or possibly higher, will cut through the softer mud (snow) with ease to gain traction on the firmer ground beneath.
So, fat tyres on a light 4×4 car, travelling a limited area can be fine (think beach buggy). But for global overlanding travel with a heavy vehicle and a limited power-to-weight ratio, encountering all types of terrain and conditions, the more flexible skinny tyre is definitely your friend.
I did a video about my tyres and explained why skinny is good if it is any help.
Follow Markus & Julie on Tucks' Truck
Check it out: the Landcruising Adventure Classic T-shirt Collection
04- Marcel & Reni Kaspar (Swiss Nomads)
We have used different overland tire sizes on our Toyota Land Cruisers over the last years. From the original 7.5R16 skinny ones to 31×10.5 R16 and the 235×85 R16 which we are currently using.
The skinnier the better is our motto.
We have learned that for grip the width of the tire is important, but the length of the contact surface is much more important. Especially in sand or mud. If we reduce tire pressure, the length of the contact surface is much more important than the width. In contrary, if you have a wider tire, the resistance in sand is greater to overcome.
Economy is much better with skinny tires.
During some tough 100'000 kms on rugged tracks and a lot of driving on sand around Australia, we had quite a few flat tires just because sand was getting between the tires and the tubes and rubbed holes. It's difficult to avoid that if you reduce your tire pressure to drive on sand.
For our overland trip around the world we wanted to go tubeless. We decided to change from our 7.5R16 stock tires on split rims to 235×85 R16 on steel rims. We have chosen the 235×85 R16 because the diameter is almost the same, they are only a little bit wider and they are widely available. The additional width helped to make driving on tar roads more stable and comfortable.
Follow Marcel & Reni's on Swiss Nomads / Facebook / Instagram.
05- Ferenc Elekes (Overland Site)
When I decided to make modifications to my truck for the upcoming trips that we've planned, there were a lot of items on the list, however, the overland tire size remained unchanged. The main reason of leaving it at the factory width is that, according to my research, it was nor skinny, nor fat, I found the 265mm width just right for the job.
Our plans included sandy deserts, muddy river banks, and tarmac roads as well, thus I could not go with either of the extreme sizes. A skinny tire would not have felt safe on tarmac roads with the speed and weight of our Land Cruiser, but at the same time going with a fat tire would have meant more strain on the engine, not to mention the fuel consumption.
A change that I might do in the future, though, is to fit overland tires that are one size larger in diameter. I'll keep the width as it is, but will buy taller tires to add to the ground clearance and also to the comfort of the ride.
Follow Ference and Evelin on Overland Site
06- Harald Veenker (Har en Mar op Reis)
We opted for a 265 wide overland tire (before it was 235) because of the vehicle's weight. On sand you'd like to 'float' on top of the sand and with skinny tires (if you don't deflate them), your vehicle sinks more into the sand.
Going wider than 265 has not been an option because of higher stress on the powertrain, with—in the long term—evident risks of wear and tear, and eventually break downs.
Har and Mar shared their journey on Har en Mar op Reis
07- Michael Quadflieg (Herman Unterwegs)
The tire choice for our first overland truck was quickly answered: the tires had to be cheap, but not too old! Our first truck was 47 years old and had little power, 130 hp without turbo at 7.5 tons. The overland tires were 11.00 R 20, really narrow and had a road profile. You have to step on the gas very courageously in the soft sand of Morocco.
Of course, reducing the air pressure brings a lot more contact surface and the overland truck drives over small sand dunes, but you don't want to keep the engine in the red rpms. In normal everyday life, we live in the vehicle, the tires were wonderful. Very quiet on asphalt and the wallet was also happy when refueling. The narrow tires used less diesel at a steady pace.
We are now on fat overland tires, but also on a more modern chassis, with more power and a turbo engine. The fat tires robbed us of much less nerve on the same Moroccan sand tracks. Slowly and comfortably we were able to drive up dunes in the lower speed range.
There were very seldom off-road problems with the traction of the tires and since our current tires are larger: 395 / 85R20, we did not notice any increase in diesel consumption at the same speed, due to the higher rolling circumference.
Of course there is also the emotional factor, we love the look of the fat tires, but we also hate the weight of the tires. We have already had a lot of tire changes, with and without detaching the rim, off-road, on the road and in the workshop. No matter how, the heavy weight is annoying! The costs are often higher and availability worldwide is poor. Nevertheless, the advantages beyond far outweigh the disadvantages for us.
Follow Michael & Sabine on Herman Unterwegs
08- Mark & Jolie (The Way Overland)
We run a AT285/75R16 on our current Troopy. Sitting roughly in the middle of tyre widths for this size diameter of off-road tires, we've found it is on the upper limits of what is probably practical for size on this vehicle for global overloading.
As this tyre size is only marginally greater than the OEM wheels, coupled with the increased componentry and power of the HDJ, the increase in wheel was considered negligible in the decision making process from a wear/tear perspective.
Having run skinny and wide tyres on various makes and models of 4wds over the past 18 years with no resulting bias, and disregarding the heated debates surrounding deep sand/snow/mud vs tire width, if there was to be a reason we stuck with this tyre combination it would be for hope of longevity.
We knew we were always going to be heavy (because we like to be comfortable and have our activities equipment on hand) so we chose a tyre that had the highest load capability for this diameter.
We calculated and sized the suspension upgrade according to weight distribution so it would be remiss to not carry similar attention through to the tyres. Admittedly the tyre load capabilities are far in excess of the actual weight of the vehicle though the aim was to be in a lower percentile.
From experience on previous international overloading adventures I found while sourcing parts might be easy sourcing quality, while definitely not impossible, is not so easy. We didn't intend to return home and work over the duration of our journey so in an effort to make all dollars stretch we found the potential slight compromise in handling much more attractive than forking out dollars for a new set of tyres while on the road.
After 2 years of travel the tyres have approximately 50k kms on them, have worn evenly, and hopefully will see out the remainder of our journey. We've been extremely happy with the performance of the tyres both off and on road, they haven't prevented us from going anywhere we've tried, and have been a comfortable ride throughout the journey.
Above all: know what pressure to run and when!
Follow Mark & Jolie on The Way Overland / You Tube / Instagram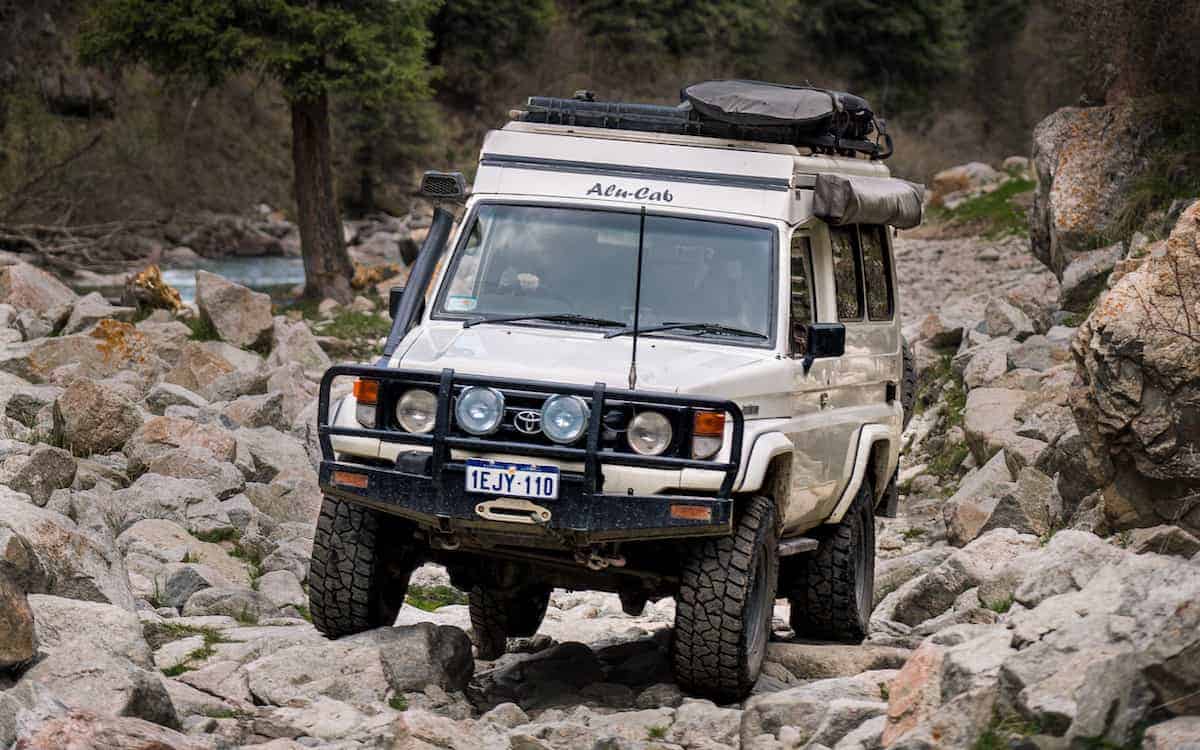 09- Koos Ockeloen
I'd prefer skinny tires, but since 35s are not available in skinny versions, I have not much choice but to go for the 315/75-16 overland tire.
Higher tires of the same width would be better; when deflating the tires will cover more surface than with a wider (lower) tire. But that causes other problems (gear-ratio , brakes, stress on the drivetrain). A skinnier tire causes less friction, which would have been nice.
I am driving high fat tires on the vehicle, and using the same on the off-road trailer. With a total weight of some 2700 kgs, the vehicle easily cruised through sand, where standard 4x4s with standard tires got stuck.
10- Roy & Michelle (Mundo por Terra)
Why would we go against the manufacturing specification, and their engineers, that worked so intensely to arrive at an ideal tire measure for each car?
Fat tires are heavier, have more friction with the ground, more rubber, so the higher is the consumption, the higher is the price and even greater is the risk of damaging other parts of the car, as it requires more strength of them, such as axles, differentials and gearboxes.
For us, what matter is the practicality, consumption, economy and sustainability. It is perceptive how much the car improves its performance and fluidity with its original sized (skinny) tires. Fat tires seam to us like a waste of material and fuel.
But fat tires have some advantages: dig less in soft ground, like sand, due to its bigger contact area. But caring for them for so long to gain with these advantages only in a few occasions, we prefer to work harder using high-lift-jack and sand-tracks if we get stuck.
Otherwise, fat tires are only to be more impressive in the photos:-)
In truth, we have already travelled with fatter tires, but it happens because they were given to us as sponsorship. If we could chose, we would go with skinny.
Follow Roy & Michelle on Mundo por Terra / Instagram
11- Maarten Heijkoop
For our Renault TRM2000 (6 tons) I have the standard size overland tires 335/80 a.k.a. 12.5/R20. Wider and higher causes stronger forces on the drivetrain, with eventually more wear and a higher risk of break downs.
This is quite a small size tire. Generally, off-roaders such as Unimogs opt for 365r80/20 a.k.a. 14/R20. And then you have the big guys, who drive 22,5 inch tires which is standard for big trucks.
I think skinny tires do better in mud, which helps finding the solid ground below the mud more easily, preventing them from 'floating', but opinions differ on this.
Check it out: the Landcruising Adventure Magnet & Sticker Collection
12- Ross Rheinbach (Follow the Hound)
The first overland vehicle that I ever owned was something of a monster truck. The previous owner had lifted the suspension some 5" (12.7cm) and added 35" (90cm tall) tyres. Young and inexperienced, this looked amazing and I swiftly went ahead with the purchase.
Over the following weeks, driving around the UK, with my bonnet higher than roofs of most standard cars, I felt like a boss, like I was driving a true overland rig. But the practicality soon set in.
The strain on the drivetrain, the hugely reduced fuel economy, the massive amount of noise from the road, it became evident that these huge tyres were great for a weekend-only off-road toy but were not the right choice for an overlander.
I dropped the lift from the Defender, reverted to the much more standard 'wolf' wheels with the 'pizza cutter' 7.5" wide tall skinny tyres as used by the British military and set off around Europe.
In most terrains, these tyres performed incredibly, on muddy tracks in the Romanian Fagarsasn mountains they cut through to the rock below and kept the Landy pushing forward, in the dry rocky tracks of the Pyrenees, they gripped hard and kept the vehicle controlled and, most of all, on the long stretches of tarmac in between, they were quiet, comfortable and economical.
I had kept the old set of tyres so as I was planning a month long tour of Morocco for my next trip, retracing parts of the Paris-Dakar route and following some of the tracks in Chris Scott's wonderful "Morocco Overland" Guide – decided to put them back on the Landy for the benefits that they brought in sand driving.
While the tyres did what they were supposed to, and bounced and glided over the dunes, this was only a minor part of the trip. On the narrow rocky tracks of the Atlas Mountains the sidewalls would snag rocks, on one occasion ripping altogether, rendering the tyre useless. The reduced turning radius of fat tyres also became cumbersome on the long winding descents. This experience confirmed what I should have known all along: big and fat for a weekend off-roader, tall and skinny for an overland workhorse.
My views on the matter have adapted somewhat over the years and driving a bigger heavier Troopy these days in lieu of a Defender, I have opted for a tyre that sits somewhere between both options. Like with every aspect of an Overland Vehicle, there are compromises to be made and tyre choice depends on vehicle, weight, and likely terrain. For me the perfect tyre choice sits around 70% chunky, 30% skinny and always all terrain.
I currently run a set of BFG ATKO2 at a 275/65/16 All terrains – by no means a skinny tyre, something that I have landed on as the most versatile all-rounder. An easily available solid performer that is as comfortable on a winter road as an Argentine river crossing. They are a robust tyre that looks great and have yet to give me any problems.
Follow Ross and Jesse on Follow the Hound (Instagram)
13- Johny van Vliet (Big Six)
We use the following overland tire size: Fat / BF Goodrich AT K02, 33×12.5×15 and Maxxis Trepador M8060 35×12.5×15.
Is bigger always better?
No. Wide tires are not always better than high tires, but why do we drive with such wide tires? This is a question we often get about our overland tire size. In our opinion this depends on your destination, type of vehicle, load capacity, maximum speed and comfort.
But we would like to explain exactly what we mean by this.
Why do we choose wider tire sizes?
We like to travel to colder areas, with a lot of snow. Snow has a surface with a low bearing capacity. So, we had to make the choices whether to drive over, or through the snow.
The theory for driving on snow is as follows:
The larger the surface of the tire, the more it distributes the weight of the car over the surface, so the less deep you will sink. The less deep your tracks, the easier it is to drive on snow. When your tire has more volume, you can deflate the tires further and create a larger contact surface with the ground. This theory also applies to all surfaces with a low bearing capacity, such as sand.
When we would dive into a cobblestone path, the wide tires provide us with more comfort. A larger tire needs less tire pressure to bear the same weight as a smaller tire. This means that you can generally drive with a lower tire pressure.
A lower tire pressure allows the tire to adapt and deform more to its surroundings and thus reduce impact. This ensures a comfortable journey over boulders and potholes. In addition to comfort, wider tires provide more stability when cornering or when the path is very round.
This is also the reason why we also opted for Fatbikes for our travel bikes, this saves vibrations at the wrists and gave us access to beaches where we would not have been able to ride a touring bike or Mtb.
Ultimately, there is no perfect tire size. Every situation requires its own approach, and let's not forget your personal preferences and looks.
Follow Johny and Debby's journey on Big Six / Instagram
Sign up for our Newsletter
Sign up for our newsletter and receive an occasional email with news, updates, and the best bits from the blog.
No spam, rare enough so as not to annoy, and easy to unsubscribe from.

Interested? Pin it to Your Travel & Car Boards
(click on the image to pin)
More on Car Gear