There are times we live on salads, or on soups, or on pressure cooker dishes.
And, sometimes, we live on stir fry vegetables.
This change of types of food may have to with seasons (salads in summer; soups in winter) or with what's available in shops.
As you travel through the vast steppes and deserts of Kazakhstan, the Pamir Highway in Tajikistan, the Gobi Desert in Mongolia, or the empty lands of Siberia, vegetable dishes can be a problem. On such lengthy road trips you need fresh foods that last for more than a couple of days, or even weeks simply because you don't have a well-stocked supermarket around the corner.
Read More: Oyster Mushroom Stir fry Dish
What you want to have in stock for a long road trip is produce such as cabbage, onions, garlic, and carrots. These vegetables can take some hits on bad roads as well as a change in temperatures without going bad quickly. Additionally, vegetables such as onions, carrots, and cabbage are more or less available all year round in most of the world.
In central and north Asia, carrots, onions, garlic, and cabbage (and potatoes as well) indeed have become our staples.
Tomatoes are great for taste but are quick to bruise and go bad so you may want to bring a couple of canned tomatoes to fall back on.
How can you turn the same, limited number of vegetables into something appetizing day after day on the road?
Overland Cooking Equipment
(click on the images to check them out)
Products from Amazon
This is where the stir fry dishes come in.
You can give the same produce a different taste by playing with seasoning, to add different kinds of nuts or seeds to your dish, to use soya sauce or teriyaki sauce, etc. (If you are a meat eater and have a fridge/freezer, you obviously have additional options by adding chicken or other meat).
Let me share a stir fry vegetable dish with you that's a keeper for extensive road trips in remote regions. We particularly love the combi seasoning of curry-cumin-coriander powder and use it in many dishes.
Stir Fry Vegetables – The Recipe
(As usual I don't have quantities of the ingredients; I mix what I have and which fits in our frying pan).
Ingredients
Garlic
Onion
Tomato (or use canned tomatoes)
Carrot(s)
Celery
Chinese cabbage or white cabbage
Sesame seeds
Spices: salt, black pepper, curry, cumin, coriander powder
Soja sauce
Possible additional ingredients
Oil, but I generally don't (I simply add water when needed).
Nuts (e.g. cashew or almonds).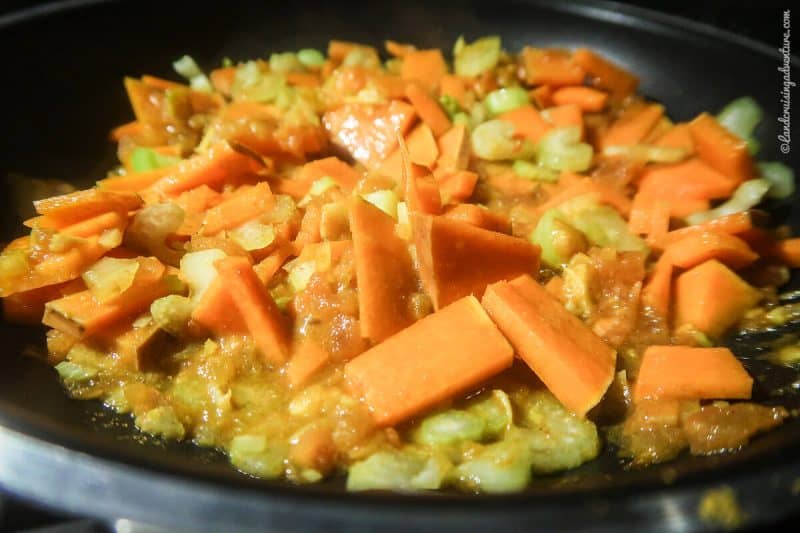 Preparation
Cut the garlic, onion, and tomato (which I peel because I don't like tomato skin in my food).
Mix these in the frying pan with the spices and let it simmer so the onions and tomato become soft and 'melt' (sort of).
Meanwhile cut the carrots and celery and add them. If you like these vegetables very soft, give them time to cook. We prefer the crunchy touch and fry these vegetables two minutes or so.
Meanwhile cut the Chinese (or white) cabbage – I prefer cutting very fine slices.
Add a bit of soya sauce.
The cabbage I fry only shortly, together with nuts if I have them.
Finishing touch with sesame seeds.
Served with rice.
That's it. Easy, quick, delicious, and nutritious!
Enjoy your meal.
Read More: Why Bring a Pressure Cooker on Your Overland Trip
Notes on our cooking equipment:
Invest in good knives for your road trip. You already for so much improvising to do in an overland / road-trip kitchen that at least you can do yourself a favor by carrying good equipment. We brought Global knives simply because Coen already used them in his kitchen before our journey.
Over the years on the road have experimented endlessly with good sharpeners. We finally found something that really works for us and takes minimal space in the Land Cruiser, the Lansky sharpener. Great for big as well as small knives.
The frying pan we have is just a basic non-sticky frying pan you can find in any store. I have a dedicated place in the Land Cruiser where I keep it upside down so the surface won't scratch.
Tips, Suggestions, Feedback?
Do you have a favorite stir fry vegetable dish you'd like to share? We'd love to hear about it in the comment section below!
Check it out: the Landcruising Adventure Apron Collection

Stay up to Date
Would you like to stay in the loop on all things Landcruising Adventure?
Sign up for our newsletter and get the latest news.
No spam, rare enough so as not to annoy, and easy to unsubscribe from.

Interested? Pin it to your Travel / Food Boards
(Click on the image to pin it)
More Recipes: