Questions about container loading I'll answer in this blog post:
Do you take care of lashing the car yourself or does the shipping company do this?
What lashing materials do you need?
What other preparations are necessary to make sure your overland vehicle is securely loaded?
Container Loading – Tips on Preparations
Before our Land Cruiser enters a container we take the following actions:
Our fuel tank is practically empty, as most shipping lines demand an empty fuel tank, or a tank filled to a maximum of 1/4th or 1/8th of its fuel capacity.
If there are any other inflammable fluids in the car, they have to be taken out as well.
Disconnect the batteries.
It may seem a no-brainer, but I make a special note not to forget to take all valuable papers out of the Land Cruiser such as car documents, shipping documents, passports, visa cards, etc.
If you have a car alarm system, don't forget to disconnect it.
Note that some countries, most notoriously Australia, require a spic and span clean vehicle – inside out. Clean it thoroughly when that's the case, because that will safe you a lot of hassle and money in the port of arrival.
Read More: Shipping the Land Cruiser from Suriname to South Korea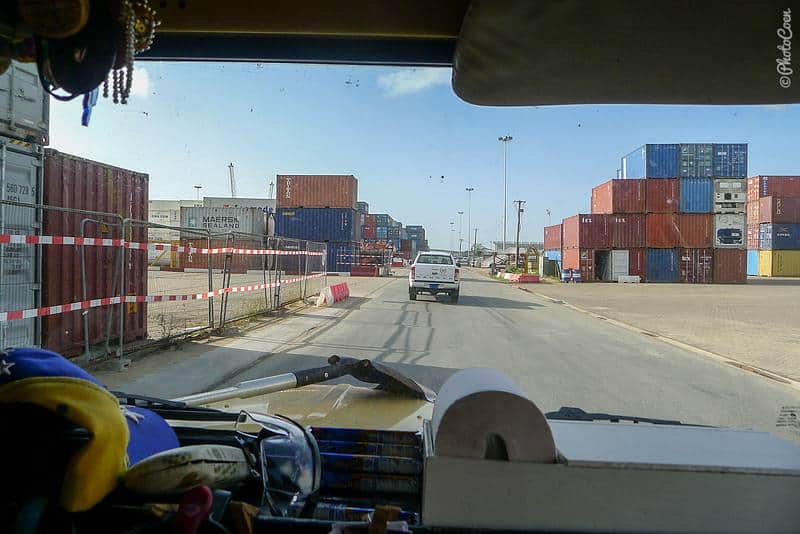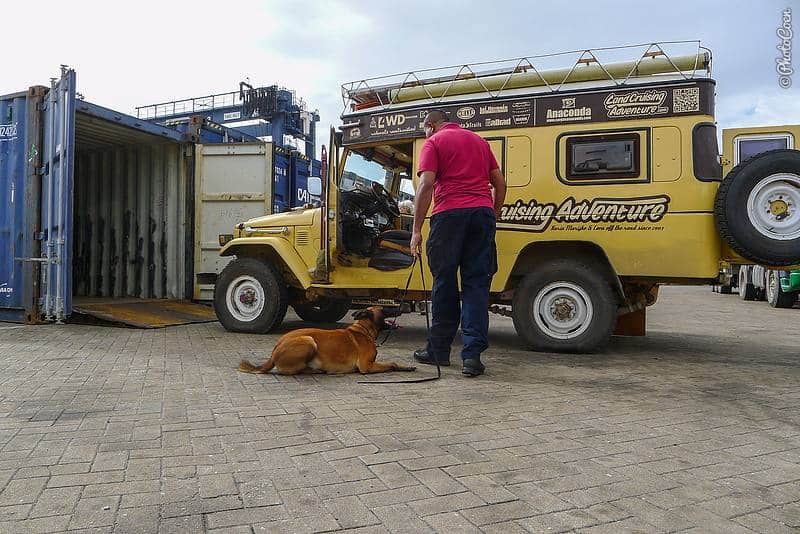 Who is Responsible for Container Loading
There are two options to load a container:
Do it oneself.
Have it done by a third party.
A third party will obviously charge for its service. Sometimes the shipping company requires that the lashing is done by a lashing-service agency, leaving you without a choice.
Our reasons to take care of the lashing ourselves was not so much a question of budget but of having more faith in oneself than in the lashers. Incredible (or arrogant) as the latter may sound, reality shows that this may be not be unfounded.
Even when outsourcing the lashing of the car, you better check the final result before the container is sealed.
Recommended Books on Overlanding
(click on the images to look inside)
Products from Amazon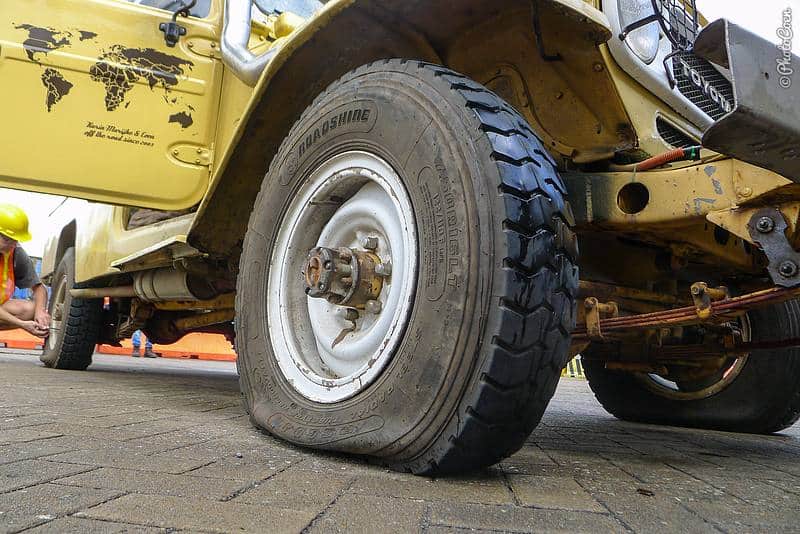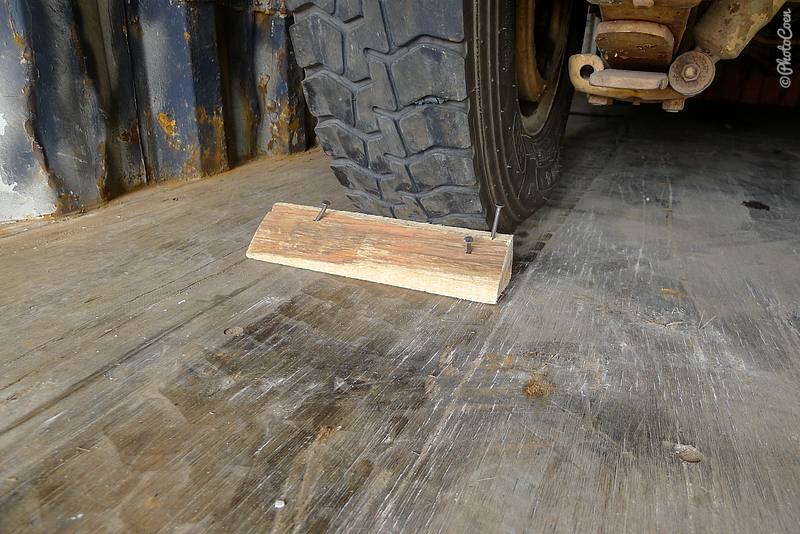 How to Properly Lash your Vehicle
There are many types of lashing materials and each agency/port will have its own system. Among them are:
#1. Straps such as ratchet straps or turnbuckles are used to lash the car on four sides from the chassis to the container floor and the car is pulled halfway down in its suspension.
#2 Wheel chocks, or simple wooden blocks to position a car into place.
#3. Solid wire. Note that some lashers may use nylon rope instead of iron wire or other inferior stuff. Make sure that the rope is strong enough!
As an overlander advised us (based on his experience): if you are in doubt, stand on it and jump up and down. If it breaks, it is obviously not strong enough to keep a car in place in case of a storm. In his case, the rope did break and he ended up doing the lashing himself once more.
Also: higher vehicles may also be lashed from the roof to the sides of the container to avoid tipping from side to side.
Sealing the Container
Before the container is closed, the customs department will run the last check and lock the doors with a special seal. This seal contains a number which is copied on the Bill of Lading, the most important shipping document!
As extra security, you may add a lock of your own on the doors, which we did.
Read More: Shipping the Land Cruiser from Bangladesh to Singapore
A Couple of Tips on Container Loading
Before going to the port or warehouse, you may want to check on the following aspects:
At what height is the container? If it is not on the ground, is there a ramp available? (Never assume there will be one).
In our case, the rooftop tent has to be taken off the roof rack, which is very heavy. We have asked for a forklift, which was provided.
Are there any loose objects to be fastened inside the container? This may be the case when you have things that need to be taken off the roof in order to fit your vehicle into the container, such as spare tires, spare diesel cans, roof tent, roof rack, etc. Are there decent lashing straps to properly secure these objects along the wall of the container?
Take time for the process. Be in no hurry and have patience. Most likely the process – which is stressful to begin with – will be more enjoyable for all parties involved.
A final tip about container loading:
Do the container loading (and unloading, for that matter) with two people. In case of distractions, such as something simple as a call of nature, or the customs department demanding the car owner to come to the office for whatever reason, the second person can (and should) stay with the car.
This way you are assured that no unwanted objects are hidden inside the container, which might lead to a lot of trouble at the port of destination.
Blog Posts on Shipping your Overland Vehicle:
Originally published in 2013 / Last update in 2020
Check ik out: the Landcruising Adventure Exploromobile Shirt Collection
Stay up to Date
Would you like to stay in the loop on all things Landcruising Adventure?
Sign up for our newsletter and get the latest news.
No spam, rare enough so as not to annoy, and easy to unsubscribe from.

Inspired? Pin it to your Pinterest Travel Boards
(click on the image to pin it)
More on Shipping: