"It's just as well those Land Cruisers rust, otherwise they would never have problems."
~DMV Inspector in the Netherlands
We bought the Land Cruiser in Germany in 2003. One of the previous owners had rebuilt and used it as a camper and it came with a lot of extras, many of which we would never have thought of installing or buying ourselves but which in retrospect have proven to be very useful, or just handy. The last owner used the Land Cruiser as a workhorse to pull boats out of Hamburg's port, which accounted for the rusty state the car was in when we bought it.
With all this equipment we were more than ready for our journey.
1. Winch
Number of times used: The old one once; the second one a handful of times.
Would we buy one were we to start our journey again: No, but that's because we have good experiences with our hi-lift jack (more on that below), but the experience could just as well have been the other way around.
The Land Cruiser came with the legendary 8274 Warn winch on 12 volts (not installed). Since the Land Cruiser has a 24-volt system we exchanged the winch for a Ramsey Pro 9000. We used it once when stuck in the mud in Turkey, and it broke down. We got the winch fixed in Pakistan but during a second rescue attempt, it failed again. It was a useless piece of equipment.
In 2013 4×4 Service Valkenburg and Warn gave us a brand-new winch, preparing us for a new level of off-road challenges. We will keep you posted on the subject. Are you looking for a Warn winch?
Here is a blog post Coen wrote about use and maintenance of the winch.
2. Hi-lift
Number of times used: At times not for years. At other times daily, all depending on the area we traveled in.
Would we buy one were we to start our journey again: Yes, but like I said before, I can also see how a winch might be super useful and the hi-lift jack superfluous.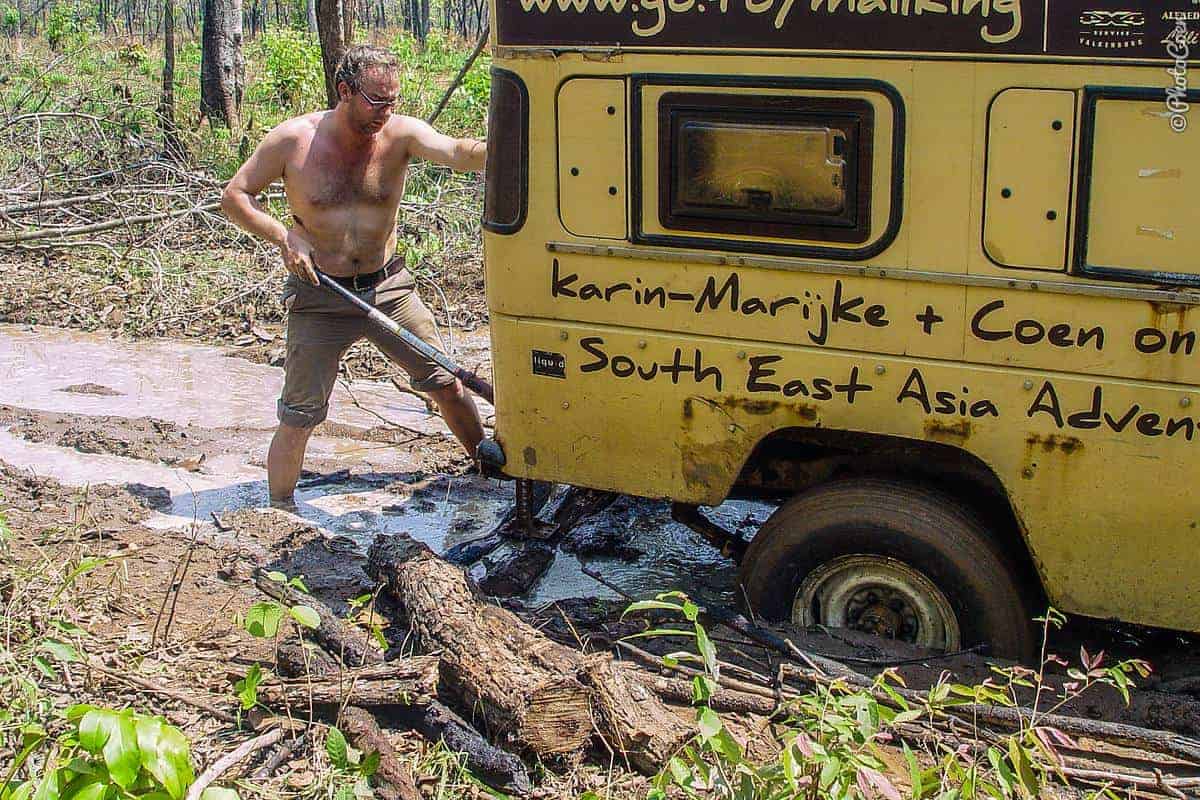 We bought a Hi-Lift Jack before our departure and it's largely because of the hi-lift that we haven't missed the winch. It has done an excellent job of getting us (and others) out of the mud in Cambodia, Laos and numerous places elsewhere.
In retrospect it's been one of our best investments and it's on our essential recovery gear list.
3. Horn
Number of times used: During our 1,5-year drive on the subcontinent we constantly used it. Otherwise, not so much.
Would we buy one were we to start our journey again: Probably yes. It was useful on the subcontinent and other than that it has been a good conversation piece.
Coen installed an extra loud air horn on the outside, with the idea of having more of a might = right feeling in countries like India. It does help. Other than that it has been a fun conversation piece, especially with kids, "Honk horn, please."
4. High Beams
Number of times used: Very few.
Would we buy one were we to start our journey again: Maybe for the looks of the car, not of necessity.
Before departure, Coen installed 4 second-hand high beams. In India they were helpful because traffic is ruled by one rule: might = right: The driver with the most noise (daytime) or the most light (nighttime) is King of the Road (better: not drive at night in India).
After the Land Cruiser's overhaul in Bolivia (2010), Bastiaan – a big fan of ours and employee of HELLA – gave us with four brand new high beams (read about it here).
We haven't used the HELLA Jumbo 320 Series much and they aren't a must. Having said that, they are one of those gadgets that occasionally prove extremely handy (like when rescuing a car stuck in the middle of the savanna at night).
5. Snorkel (High-air Intake)
Number of times used: N/A (Part of the integral engine system).
Would we buy one were we to start our journey again: Yes.
The Land Cruiser was fitted with a "cyclone" snorkel. It has come in handy when crossing a river, which is one of those things that don't happen very often.
However, the snorkel has proven more useful when driving at high altitudes where the pre-filter in combination with the oil-bath filter has helped the engine enormously in climbing up to 5,600 meters without hickups.
Rust killed the pre-filter, which Coen discovered by chance in Boa Vista. For various reasons the time and place were as inconvenient as they could be and we felt extremely lucky when Ricardo spontaneously gave us his still-new Donaldson pre-filter (read about that here).
6. Shovel
Number of times used: Irregularly.
Would we buy one were we to start our journey again: Yes.
Coen installed a spade on the hood, which attracts a lot of onlookers and is another great conversation piece. We use it for digging out stuck tires or to dig a toilet when rough camping.
On three occasions the handlebar broke because the wood had rotted away. In Manaus (Brazil), the workshop of Luis Platinado produced a custom-made spade with an aluminum handlebar, which should last forever.
1. Roof Rack
Number of times used: N/A
Would we buy one were we to start our journey again: Yes.
The Land Cruiser came with a stainless steel roof rack with aluminum plates, which has been perfect for securing our equipment. One but: the Land Cruiser is already higher because of the 25-cm additional (now dark-brown) aluminum edge. With the additional roof rack + equipment the height is 2.7 meters (8.8 ft).
We can't enter underground parking lots nor open-air parking lots (e.g. of shopping malls) that have a height-bar at the entrance. In forests we have had to cut trees or low-hanging branches. The height is, I would say, the major downside of the Land Cruiser as we have it today.
Note that when we take off all equipment and deflate the tires, the Land Cruiser does fits in a regular, 20-foot container.
2. Beauty Case
Number of times used: N/A (always filled)
Would we buy one were we to start our journey again: Yes.
The beauty case, as Coen likes to call it, is the green, former US-army box. It attracts lots of attention, especially from officials.
"What's in that box?" they ask.
"Explosives," Coen answers (yes, also on the Pakistani and Indian border).
It makes people laugh and never led to problems until, at one time in Laos, I pushed Coen to be honest, so he responded to the police officers that the box contained camping gear.
"Please open it," was the response.
So much for honesty.
The box is filled with camping (trekking) gear, snorkel gear, winter or summer clothes (depending on where we travel).
3. Rooftop Tent
Number of times used: NL – Southeast Asia: 80% / South America 20% (because it leaked) / Far East 50% (either because of winter or because we were in major cities and sleep in the car).
Would we buy one were we to start our journey again: Yes.
Our Eezi Awn rooftop tent was a good investment as we slept in it often, especially during our first 3,5 years to Asia. However, considering the price of these rooftop tents we were not impressed with the durability of the mattress (we replaced it in Vietnam after 3 years), with the mosquito netting that doesn't properly close in corners (which we stuffed with old T-shirts) and serious leakage problems after 4 years.
I wrote more about the pluses and minuses of rooftop tents – part 1 & part 2.
In Venezuela (2015) Carpas Anacondas gave us a new tent, for which we've been grateful. The pluses and minus will be discussed in a later blog post. What did impress us already is how waterproof it is, withstanding serious rainstorms in Suriname days on end.
We have concluded that it has been worth to have constructed 2 places to sleep: inside the car as well as in the tent.
4. Solar Panels
Number of times used: N/A (Integrated part of the system)
Would we buy them were we to start our journey again: Yes.
In India we bought solar panels because at the time they were much cheaper than in Europe, and then went on to drive around for another two years before we got to installing them. They provided extra energy for our digital appliances and the old, energy-guzzling fridge. But the panels (we need 2 because of the 24-volt system) were relatively large and not efficient.
In Suriname (2015) we replaced the solar panels with a new, much-bigger ones. We ordered them in the Netherlands and had them shipped with a bunch of other stuff. Now, 2 years later, we conclude that we are super happy with that investment.
5. Jerry Cans for Diesel
Number of times used: A handful of times.
Would we buy them were we to start our journey again: No, because we got a second tank installed underneath the car. Otherwise, yes.
With our regular, 85-liter tank we can drive some 600-750 kilometers. The only time we needed our spare diesel jerry cans was along the coast of the Persian Gulf (Iran). Ironically on our Asian trip this was the country where diesel was cheapest, however, finding a petrol station there with an ample supply of diesel turned out to be not so self-evident.
In South America we used the jerrycans a couple of times:
In Patagonia (south Chile and Argentina) since this region is known for having petrol stations which are not necessarily stocked up on diesel (or petrol).
In southwest Bolivia as petrol stations are few and far between and fuel consumption is high due to the rough terrain + high altitude.
The disadvantage is, when filled, their weight on the roof. Roof bars, but also window bars broke and were welded on numerous occasions. During the overhaul in Bolivia (2010) we had a spare tank fitted underneath the Land Cruiser and the jerrycans now only remain for the show.
6. Maxtrax MKII's
Number of times used: Not yet.
Would we buy them were we to start our journey again: Yes.
We were not going to invest in heavy duty aluminum sand ladders. We were convinced that we wouldn't need them during our Asian crossing. Later in South America the need never became an issue, never mind that they would be rather hard to source locally. But when our good friend Christophe flew to visit us in Colombia and he offered his used Maxtrax MKII's—who were we to decline!
It is an extra boost of confidence to go that extra mile, and they weigh almost next to nothing compared to the aluminum ones. 
7. Hella Worklight / Floodlight
Number of times used: always when reversing in the dark.
Would we buy them were we to start our journey again: Yes.
Just recently, when our rear light started to falter, Hella came through once more and the Land Cruiser is now sporting a powerful work/floodlight on the rear: it illuminates a vast area behind us with 6 ultrabright LEDs while drawing only 0.84 Amps, which is the same as just one of our fans. You wouldn't believe the amount of light these 6 LEDs are putting out.
1. Decals on the Bodywork
Number of times used: N/A
Would we use decals were we to start our journey again: Yes.
The bodywork of the Land Cruiser was cleaned and waxed thoroughly so we could apply the logos of those who had helped us during the preparations, plus a world map. We didn't give the matter much thought. We did it because we liked it.
On the road we learned that other overlanders considered this a major decision: driving around conspicuously (as we do) or as inconspicuously as possible.
During discussions on the topic we learned both ways have their advantages and disadvantages, but we feel that the plus points of driving around conspicuously win.
We get a lot of smiles, thumbs up and people approaching the car for a chat which has led to various invitations.
We are still happy with this choice, although we acknowledged the downside when we were trying to pass the checkpoints in Bhutan without getting noticed (we were there illegally).
2. Tires
Number of kilometers driven: the sets have varied a mileage from 30,000 – 50,000 kilometers
Would we buy them were we to start our journey again: Of course – where to drive to without tires?! However, which ones largely depend a lot on availability in the country we're searching for new ones.
Books must have been written about which tires to buy or, if not, at least the subject fills endless threads on forums: 10 guys – 10 opinions. 
Coen wrote a blog post about it (find it here). In short, these have been our experiences:
1. Before our journey (2003) we bought 6 Chinese tires with a heavily studded tread exactly because of those forums and our ignorance. "Gotta have heavy–duty tires!" How many of those advisors had traveled to Asia? Few, I reckon. We drove mostly on asphalted roads, on which these tires caused a lot of noise and a caused an unfavorable diesel consumption. They lasted 2 years (some 40,000 kms). We were glad to be rid of them.
2. In India (2005) the tires were worn out. Initially we thought replacement was a problem as the only available radial brands in our Land Cruiser's size were of an Indian make. However they've been the best we've had. We drove a comfortable 47,000 kms (2 years).
3. Paraguay is one of the best options in South America to buy tires because of a favorable tax system. By then (2007) Coen had learned to buy tires with as many plies as possible as it reduces the chances of a flat tire (twice in South America, once because I drove into a thick nail and the second time remains a mystery). We bought Brazilian Pirelli tires with 12 plies. The mistake was that we had forgotten the big advantage of radial tires and so we were back to noisy tires. They lasted 50,000 kms (2,5 years).
4. Iquique, Chile, has a favorable tax system too. So we changed tires once more (2010). We now had the list of all criteria complete: cheap, radial, narrow tires with as many plies as possible. We found radial tires with 14 plies. Great choice. They lasted a comfortable 50,000 kilometers (2,5 years).
5. In Manaus, Brazil (2012), we bought new ones. The tires were worn and we had a couple of thousand kilometers ahead of us on rough terrain. In retrospect we could (should) have hopped into Venezuela when coming from Guyana as car parts are much cheaper there. But with our brilliant planning we didn't and were left with a fait accompli in Manaus: we needed new tires. There was one problem, Coen's much wanted 7.50R16-size tires were unavailable in Manaus nor were there tires with the number of plies he liked. He settled for 235/85R16 radial tires with 10 plies.
6. Some 32,000 kilometers later these were worn completely. We were in Colombia (2015) and preferred waiting to buy new ones until we were going to be in Venezuela. However, we ended up with numerous punctures because the outer layer was totally gone. We were forced to buy new ones. We did so in Bogotá, buying Roadshine RS604 with 14 plies. They have held very well until today (Oct. 2017).
7. While the tires started to wear, they were not in need of replacement when we were in Japan (2017). However, since we were on our way to Hokkaido in winter, where roads are covered in snow and ice, the tires were not adequate. A local friend scored us some good but used studded tires, which performed super on the slippery road surfaces.
While we don't need these type of tires in other seasons, we've decided to use them until they're worn before replacing them.
3. Spare Tires
Number of times used: Sometimes not for years, but the ones bought in Manaus were used a lot because we had a lot of punctures (without a clear cause).
Would we buy one were we to start our journey again: One spare tire suffices.
"You must have at least two spare tires!" the forums told us, and we listened. We attached one on the roof and one underneath the Land Cruiser. 
The one underneath fell off somewhere in India without our noticing it. We never missed it and concluded we could do without it. 
There are tire shops all over the place in Asia and South America, and I assume in Africa too. Having two spare tires is nonsense unless you have a tight schedule and can't miss a day to search for a place to get your tire fixed.
In Bolivia (2009) we found a second-hand spare-tire carrier and had it installed on the rear of the Land Cruiser. We prefer this set up to having the spare tire underneath the carriage. In the case of the latter it gets quickly caked in mud and so it takes ages to get it when you need it.
1. Insulation
Would we do this were we to start our journey again: Yes, absolutely.
The previous owner installed insulation on both sides from behind the front seats to the back and the ceiling. The floor has a thin layer of insulation plus a thick, wooden floor panel. All this has provided great comfort in cold climates.
Neither of the heaters (standard Land Cruiser heater + the Webasto heater) installed by the previous owner ever functioned properly yet in cold weather we can do without heating. An extra blanket suffices. 
Having said that, for weeks in the freezing winter in Hokkaido (Japan) that came with night temperatures of -10 to -20 degrees Celsius, we did buy a small stand-alone heater on gas in a Home Center.
2. Storage compartments & table
Would we do this were we to start our journey again: Yes, absolutely.
We constructed bunks on both sides behind the front seats. They are used as seats and function as storage space. For the first 12 years, we stored bigger stuff in the middle section, among which a 20-liter water can, Ortlieb shower bag, camping chairs, a camping table, and the toolbox.
Just before leaving South America (2015) we changed this setup, freeing the middle section. Our Kermit camping chairs (read about it here) are tucked away, we bought a toolbox that fit in a storage compartment, and constructed a water tank underneath the Land Cruiser's carriage (read about it here & here).
We have additional planks to put across this middle section to make the backside of the car into a bed. The cushions double as a mattress. One of the planks can be turned into a desk as well.
In the front and back we constructed cupboards underneath the ceiling to store lightweight stuff and, in the front, a radio.
3. Water System
Would we do this were we to start our journey again: For a 1- or-2-year journey, we'd stick to containers for budget reasons. Now that we have been – and will remain – on the road for so long, the investment of a watertank, filters, sink, etc are worth it. 
We started out with:
1x 5-liter water can with drinking water.
1x 20-liter jerrycan. In Asia it was filled with dirty water from which we filtered into the 5 liter water can. In South America we filled it with drinking water from tabs which was widely available.
1x 5-gallon water can with drinking water. This was a spare supply which we hardly ever needed.
1×10-liter Ortlieb showerbag.
In December 2015 we did an overhaul, including the water system with a water tank, water pump, water filters and a sink (for the stories, see links under #2). 
How we take a shower? Read the story here.
4. Fridge
Would we buy one were we to start our journey again: Yes. The initial low-budget options were fine for that period of time but now I'm more than happy with a proper-working fridge.
Before departure we bought a second-hand refrigerator, which broke down in Pakistan. We didn't repair it and didn't miss it as in Asia as we ate outdoors most of the time.
When going to South America we got a 30-year-old Engel fridge from our friends Pierre and Irene. It was noisy, used a lot of energy so we couldn't use it much when not driving (e.g. rough camping), but it sufficed for a long time.
Included in the above-mentioned overhaul in Dec. 2015 was the investment in a new Engel fridge, with which we've been very happy so far (Oct. 2017).
A full story on the fridge is here.
5. Household Batteries
Would we buy one were we to start our journey again: Yes, but which ones depends largely on availability.
The electronic equipment and lights work on 24 volts. We have 2 deep-cycle-dry batteries to feed them. The previous owner constructed a compartment for them on the outside of the Land Cruiser, underneath the bodywork behind the driver's seat.
That setup works well, but it does limit us to the maximum size of the batteries.
Apart from that we have two starter batteries for the engine.
Both sets have been replaced a couple of times, like in northeast Brazil, when one of them exploded.
Coen wrote an article with tips to buy starter batteries here.
6. Convertors & Chargers
Would we buy one were we to start our journey again: Yes.
We have:
This means that we have 12, 24 and 220 volts at our disposal.
To charge the batteries we rely on our Victron MPPT BlueSolar.
To monitor it all we invested in the BMV-700 from the same company which carry 5 year warranty.
7. GPS
Would we buy one were we to start our journey again: As mentioned below, we have a debate on that one. Coen says 'yes', KM says 'maybe, not too sure'.
We chucked Coen's old Garmin yellow eTrex deep inside the bowels of the Land Cruiser when we started our journey, not really seeing how we could use it. Somewhere in Southeast Asia we discovered that is could be a nifty and handy device, if used correctly.
After Coen's friend had given Coen an upgrade: the GPSmap 60CSx (here's the story), we used free OSM maps in South America. Especially in major cities they were very helpful. Having said that, there is some debate in our team whether a GPS is a necessity or not.
Today Coen nagivates on an iPhone, he keeps testing various apps, as for example Mongolia's vast desert needs a different approach. Favorites are MapsMe, Galileo Pro, MapOut and 2Gis.
Coen wrote an article about the usefulness of digital navigation systems here.
8. Fans
We have no aircon and don't miss it. In Pakistan we bought two small ventilator fans which we fitted above our front seats. They are good for driving in fume-spewing traffic because you can close your windows for a moment without suffocating, or when waiting for traffic lights in the scorching sun. And they are good for sleeping in hot climates too. One fan can be extended with a cord into the roof tent.
In 2014, Hella sent us three 2-Speed Turbo Fans. Two replaced the ones in the front and we added one in the back. We like the two-speed option and how silent they are. We don't like the fact that they are not closed on the back side so you really have to be careful where you put your fingers!
The newer model has tackled that but only is available in 12 volt. The best part we like is the way they are screwed on and off the fitting piece. No more screwdriver at the ready, just a big knob to screw on there. Love it.
Do you have other questions? Fire away in the comment section below and we'll answer them asap!