Why visit Paraguay? In fact, Asunción, Paraguay's, hadn't impressed us on our first visit. Maybe it was because it had been the region's coldest winter in 80 years and the city looked quite depressing. After we'd run our errands — namely, replacing car batteries that had caught fire — we quickly drove on to Argentina.
A year later, we were back in Asunción with more car issues. With its dodgy tax system, Paraguay is not only the ultimate place to go shopping for electronics — especially in Ciudad del Este — but also car tires. This time it was sunny, warm, and nice to be outside. The city emanated pleasant, relaxed vibes. It felt good to be there, and our expected quick border crossing for car parts turned into a seven-week stay.
This episode taught us it's important to give a place a second chance. Paraguay may not have the headlining attractions of its neighbors, but the country's historical and cultural aspects deserve a visit in their own right. And of course, among our best memories of Paraguay are the open and welcoming encounters we had with the Paraguayan, Guaraní, and Mennonite citizens.
1. Admiring Murals in Asunción
For the last couple years, Asunción has organized international competitions for mural art (encuentros internacionales de muralismo), which has resulted in an outdoor museum of murals throughout the center of the city, varying from traditional, rural scenes to expressions of modern art.
Look for them in the park next to the Presidential Palace and on Plaza de Derecho Humanos.
2. Stumbling on a Festival, Asunción
If you happen to be in Paraguay during the second half of August, you may run into a big Bolivian celebration.
Asunción has a large Bolivian community—in Bolivia they celebrate a three-day Urkupiña Festival, while the Paraguayan version lasts only one, but in terms of festivities, processions, and celebrations, it's just as exuberant.
Read More: Stories about Bolivia
3. Catching the sunset (or sunrise) at the Jesuit Missions
In the 17th century, Jesuits built reducciones in Paraguay, south Brazil, and north Argentina. Their goal was to convert Guaraní indigenous people to Catholicism while protecting them from Brazilian slave hunters.
The Jesuits stimulated all forms of artistic talent, and a new form of art evolved that was a mixture of traditional Guaraní symbols and designs and traditional colonial baroque
The best-preserved ruins and UNESCO World Heritage Sites are the missions of Jesús de Tavarangue and Trinidad de Paraná. They date from 1685 and 1706, respectively, and have the largest churches of all Jesuit missions, along with remnants of the reducciones.
Late afternoon or early morning are the best times to visit, when the soft light gives the ruins an air of mystery (read here).
Check it out: Our Zipped-Hoodie Collection
4. Driving the Trans Chaco Highway
The Trans Chaco Highway is among the least reliable roads in South America. When we drove it, it had just been paved and you could roller skate on it. In truth, though, the road had not so much been paved as painted over with a thin layer of asphalt.
As a result, it quickly deteriorated again into one of South America's worst roads, with deep potholes where cars and buses can get stuck for days during the rainy season.
So if you're in for some adventure: Take the bus from Asunción to Bolivia over this 450-mile road without an itinerary. You'll pass through the harsh territory of the Chaco, as well as its Mennonite colonies.
Read More: 9 of South America's Most Legit Road Trips
5. Visiting a Flourishing Mennonite Colony in the Chaco
Throughout the centuries, the Chaco has been inhabited by indigenous tribes, few of which have survived colonization. In the beginning of the 20th century, swathes of land were given to the Mennonites, a religious order from Europe, who have turned part of the Chaco into fertile agricultural fields and cattle ranches.
The best-known Mennonite colony in Paraguay is Filadelfia, which has basic facilities such as hotels. It's a good base from which to visit surrounding towns or to explore the Chaco wilderness, and to get an idea of the Mennonites' thriving dairy economy
6. Learning About the Amish-like Lives of the Mennonites
All Mennonites may have the same origin, but their branches are about as diverse as within Protestantism, varying from moderate to very conservative.
As you travel in the Chaco, you'll come across the horse and buggy, as some Mennonites are not allowed to travel in cars or buses. Their dress and culture are comparable to those of the Amish in the United States.
It's not a matter of course that you can stay in one of their villages, but if you can score an introduction, it's well worth a visit. We have beautiful memories of staying with a family for a day or two.
Read More: A Glance Into the Lives of the Mennonites in Paraguay
7. Drinking tereré with locals in Asunción
Downtown vendors sell tereré, an infusion of yerba mate with fresh herbs such as lemongrass or mint and drunk from a guampa (cattle horn). Sometimes people use orange juice or mango juice instead of water. Tereré is the perfect drink for the generally hot climate (avg. 95 degrees F) that characterizes the city.
8. Touring Itaipú Dam, the World's Largest Hydroelectric Power Plant
Near the Brazilian border lies Ciudad del Este, not so much a tourist attraction as a shopping destination for Brazilians and Argentinians (and other foreigners) who flock here in large numbers to shop for tax-free electronics and other gadgets.
Nearby lies the Itaipú Dam, where you can visit a museum and join a bus tour.
It will show you the pros and cons of this overwhelming project, and you'll be bombarded with comparisons—for example, how the volume of iron and steel used to build the structure would be enough to create 380 Eiffel Towers or five Hoover Dams. The scale is pretty mind-boggling.
I also wrote about this site here.
Check it out: The Landcruising Adventure Laptop Skins Collection
9. Guaraní Art in Franciscan Churches
Paraguay's first colonial settlements were established during the early 16th century. Well known are the Jesuits, who inhabited the southern part of Paraguay until they were expelled in 1767. Less known are the Franciscan orders that settled around Asunción.
Their heritage is visible in whitewashed churches with richly painted interiors—the Baroque- and Rococo-styled altars, altarpieces, pulpits, and confessionals are masterpieces of art, the likes of which we have not seen elsewhere in South America.
Among the best-maintained or restored Franciscan churches are those in Yaguarón and Atyrá. If you find a church closed—which is likely—ask around for the caretaker. You'll generally find somebody willing to open the door for you.
Read More: In Search of Franciscan Churches in Paraguay
10. Enjoying the Slow Pace of Life Outside the City
In the countryside, you'll often travel along unpaved, red dusty roads where horses and carts are common means of transport. In some remote villages such as Valenzuela, it feels as if you've time traveled back to the 19th or 18th century. Small wooden houses, cobbled streets, and oxen and carts with huge wheels dominate the scene.
Time appears to have come to a standstill here with men sitting on benches under trees, drinking tereré and watching life go by. This is not the place to be in a hurry but to enjoy the tranquility of country life.
11. Volunteering at a Children's Home
If you're into volunteer work and love kids, this may be of interest to you. Hogar de los Niños Cristo is home to 200 children varying in age from newborns to 18.
It's an incredibly disciplined home run by Patricia who, after she had her own children, started adopting street children. Over time her work grew into this remarkable project.
You can do good by simply being there. There's always a child who needs to be hugged, talked to, or played with. Note that girls' and boys' quarters are strictly separated and that volunteer couples have to stay in separate quarters as well and share rooms with the kids.
12. Learning about Paraguay's Culture and History
The capital has a number of good museums.
Museo del Barro focuses on indigenous lifestyles and pre-Columbian art.
Museo Guido Boggiani (in nearby San Lorenzo) is dedicated to Guido Boggiani, the first to take a serious interest in the indigenous communities of the Chaco (19th century).
Museo Etnográfico Dr. Andrés Barbero displays among other things religious artifacts and an impressive collection of funeral urns.
13. The Open-air Museum of Friesland
A Mennonite colony near Asunción, Friesland is located on a side road off Ruta 3. The entire town has a manicured, Stepford-esque air to it. You can visit their museum, partly open-air, with somebody from the village explaining the Mennonites' history and their hard, impressive struggle to make a living here.
14. Relaxing at Ypacaraí Lake, San Bernardino
The attractive town of San Bernardino, with shaded cobbled streets, was only a tiny hamlet when the German traveler Guillermo Weiler arrived in 1888.
He saw its potential, constructed two hotels and a harbor, and initiated regular steamboat crossings of the lake. Under his supervision a hippodrome was built, and he subsequently organized the first horse races in San Bernardino.
Each year, Paraguayans flock to their 'summer capital' of San Bernardino, where the sparkling blue lake of Ypacaraí brings relief from the heat. It's a nice place to get away from the city, to breathe in some fresh air and go for walks along the waterfront.
The town is also a good base to visit nearby indigenous communities, where you can buy handicrafts or participate in workshops where artisans teach their crafts. If you have some money to spend, the iconic Hotel del Lago would be a good place to spend the night.
This article was first published on Matador Network.
Check it out: the Landcruising Adventure Tire-in-a-Mile T-shirt Collection
Fuel Up
Are you inspired by our adventures?
Would you like to contribute with a liter of diesel or two?

Inspired? Pin it to your Pinterest Travel Boards
(click on the image to pin it)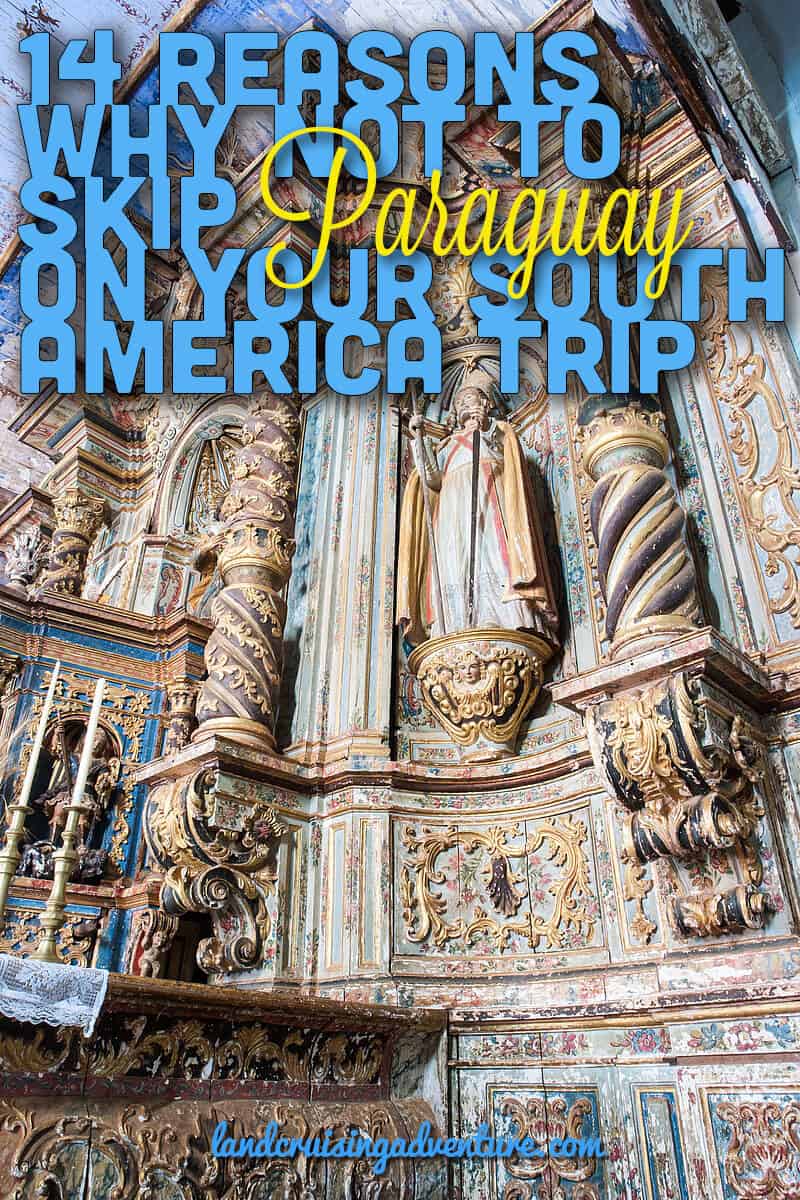 More on Paraguay: