2 weeks, 16 visits, 780 kilometers by bicycle…
With Covid-19 still dominating the world and keeping borders closed (at least where we want to go, Central Asia), we've come up with a second plan for our time in the Netherlands.
Because you can always change plans. Every day.
People wonder how we are doing without our home on wheels.
The simple answer = Great.
Granted, we are among the lucky overlanders. We didn't get stuck between borders, our vehicle is safe and (as of yet) has no paperwork issues – as mentioned in our previous Where are We update, the Land Cruiser can stay in Kazakhstan until January. And, last but not least, we are having a great place to stay at my (KM) parents' home and with Coen's family living right around the corner.
We use much of our time to work, but definitely schedule enough time to be away from behind those laptops. One of the ideas was to go cycling and visiting friends.
Cycling in the Netherlands
The Netherlands is a beautiful country but frankly, I wouldn't immediately recommend it as an overland destination. Many countries in Europe are much better to explore by vehicle with wider, emptier landscapes and opportunities for wild camping than the Netherlands.
Exploring the Netherlands, in my opinion, is best done on foot or by bicycle. To be honest, this is something we are only 'really' learning now. During my rat-race years in the Netherlands, a car was my default mode of transportation.
Recommended Books on Cycling
(click on the images to look inside)
Products from Amazon
I had absolutely no clue how many dedicated cycling (and hiking, and mountain biking, and horseback riding…) trails/roads we have in this country. It's absolutely amazing!
Not just the number of dedicated trails and roads, but 'we' have a huge network of developed routes with signboards and, these days, digital maps. Truly amazing, again!
To be honest, cycling in the Netherlands combined with visiting friends wasn't a new idea – it's been in the back of our minds for years. But you know – no time 🙂
How we Organized our Cycling Trip
This time we have more than enough time in the Netherlands and so I set up a schedule that included to at least visit my two sisters in the western part of the Netherlands and our best friends. That was my part – setting up an itinerary, organizing the planning with whom to visit when.
Part two was Coen's – the digital partner of our team. Using the super easy-to-use website and app www.route.nl, he plotted a so-called Knooppunt route. This connected not just our destinations but took us across dedicated roads and trails through amazing scenery and villages, away from the main roads. Thus we saw the best that the Netherlands has to offer.
As of now I might as well become an ambassador for the Dutch tourist organization 🙂 (Well, the slow-travel version of that – not the mass-tourism stuff!)
Luxury – So Many Friends to Visit
As you may know, Coen and I never shared a social life together before we hit the road. We met 1,5 years before our departure and saw each other only during the weekends as we lived 200K apart. As such, we never shared a community of friends.
Read More: The Journey
How that has changed. Through the overlanding world – whether on the road or at the annual Overland Reunion, we have met so many beautiful inspiring people and over the years many of them have become great friends.
Who to visit, and who not? There are just too many to visit all. So, by no means, take it personal if we didn't visit you. Hopefully that will happen next time.
We were also lucky to be able to borrow e-bikes. Yes, the people traveling in that old rusty Land Cruiser now opted for the luxurious, 21st century version: e-bikes. Thank you Edwin, Judith & Fred (and Monique) for lending us your bikes!
Read More: The Overland Reunion – How Did it Start and What is It
Luxury – Cycling on e-Bikes
These electric bicycles come with an integrated electric motor that can be used for aided propulsion. This is particularly useful on the long stretches with a headwind (in the Netherlands, cyclists somehow 'always' have headwinds!) but also when going uphill.
By the way, no longer believe the stories that the Netherlands is flat. A cycling trip will prove you otherwise very quickly, particularly when crossing the center part (Veluwe) and parts of Twente (our region). This is said in jest, of course. We don't have mountains by any means but cycling with an e-bike definitely facilitates cycling 80K, as we did on some of these days.
Oh, and an interesting sidenote: Not all people with grey hair have e-bikes but everybody cycling on e-bikes has grey hair – more than ever, it became clear which age group we belong to (consolation: in this particular group we are the youngsters).
The Beauty of the Netherlands
Of course the Dutch landscape isn't new to us. But to cycle through it for so many days did keep us captivated and in a state of euphoria on how beautiful the Netherlands is.
For hours we cycled through agricultural fields (although way too much used for cattle, but that's another topic), along meandering streams and straight canals. Yes, we saw dozens of windmills and the typical church spires in the distance on perfectly flat parts of the country.
The journey took us to picturesque villages of the age-old houses and narrow streets, and through bustling Amsterdam (which requires its own set of cycling skills).
We stopped for coffee and apple pie at outdoor terraces, ate sandwiches at one of the zillion picnic tables/ benches, enjoyed a French fries at the 'Snack Harry's', or savored an ice-cream.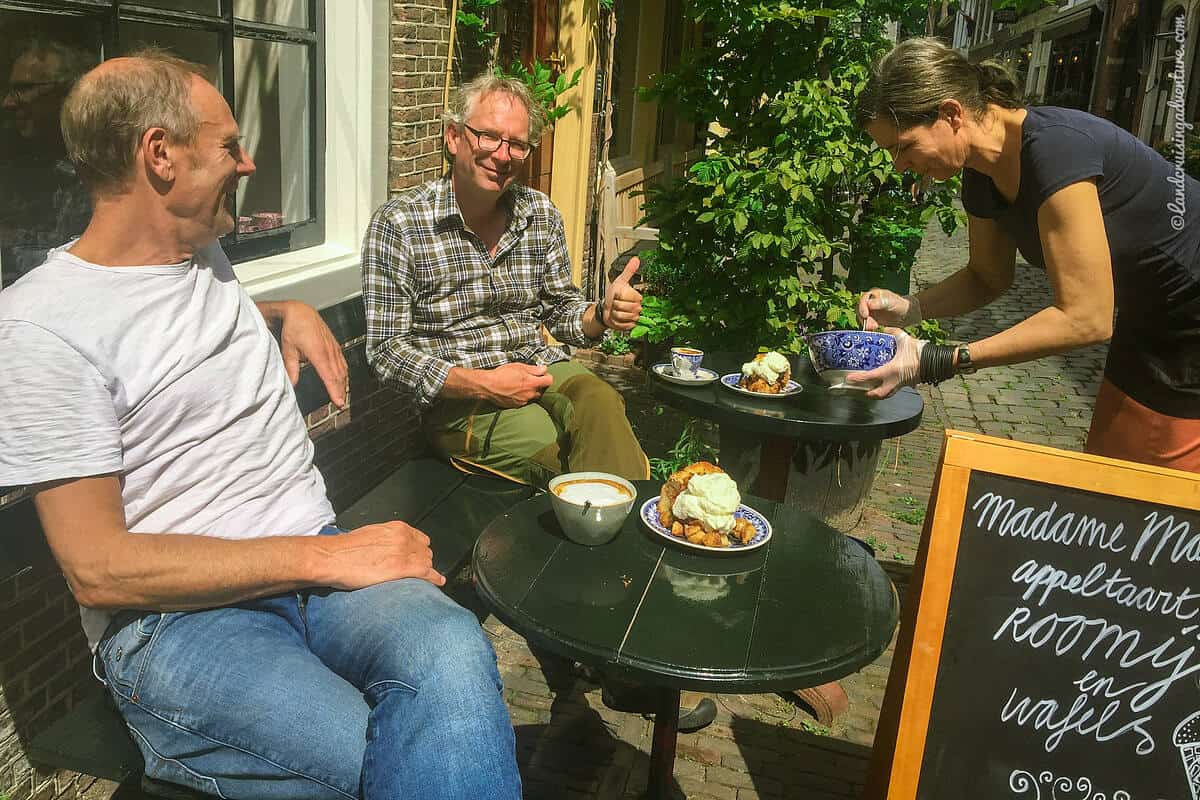 Additionally we got to learn about some amazing building projects. Oosterwold for one, where people have a free hand in what type of house to build and organize the infrastructure with neighbors, a Tiny House project in Noord Holland, and a community project of 50 families who eliminated the property developer and build their own apartment complex on (largely) their own terms in Amsterdam. Sustainability is important in all three projects.
In over-regulated Netherlands, these are inspiring examples of how things can be done differently.
A Miracle – the Weather
The Netherlands is known for, among other things, its unpredictable weather which generally means having a fair share of rain. While the recurring periods of draughts over the past couple of years in this country are a serious reason for concern, they are a blessing to a couple on a two-week cycling trip.
We got soaked only once, had a minor sprinkle of rain only twice, and the day after our return the weather did a volte-face and this week we have clouds, lots of rain, and colder temps. What a stroke of luck!
Making Memories
Thank you all, Mélanie, Bruno, Henk & Marianne, Jeroen & Jolanda, Mijke & Dennis, Peter & Michelle, Els & Merijn, Michel & Renee, Ruud & Jose, Iris & Roland, Barbara-Ellen & Erik & Jaimy & Zion, Marjolein & Jeroen & Thijs, Dirk & Marieken, Pauline & Wim, Willy & Albrik & Dante!
We loved seeing you, talking with you, eating and drinking together and staying at many of your homes.
What's Next – A Hiking Adventure
Now what? We're back behind the laptops, catching up on 2 weeks of emails and other to-do lists, and working enough so we can take time of for our next project, hiking the 500K Pieterpad from north to south Netherlands.
Stay tuned for more!
Update: Meanwhile we Hiked the 500K Pieterpad & Cycled 1000Ks in Friesland.
Meanwhile, we hope things are improving for you all during these Covid-19 times. Depending on where on this Planet Earth you are, borders are opening up and rules are easing. Other parts are increasingly tough to deal with the ongoing crisis – we wish you all the best and hope for a quick change!
Feel free to reach out to chat, we love to hear from you!
A New T-shirt Project – a Niece & Uncle Design
Let me end with a bit of promotion. Coen's niece Maud (10 years) wanted to help her uncle and came with a fantastic design to Go on an Adventure (Ga op Avontuur, in Dutch). How cool is that?
And so Coen turned it into a digital version, sticking as much to the original design as possible and this is the result. Now available in our shop on dozens of products: T-shirts, hoodies, stickers, travel mugs, notebooks, smartphone & laptop skins, and so much more.
Best,
Karin-Marijke & Coen
Get the News
Would you like to stay in the loop on all things Landcruising Adventure?
Sign up for our newsletter and get the latest news.
No spam, rare enough so as not to annoy, and easy to unsubscribe from.

More on Meetups: