This is part 3 of a 4-series story the question whether a 4WD is a must for overland travel. Here are part 1, part 2, and part 4.
Our Land Cruiser has required so much maintenance that people have regularly asked if it wasn't time to ditch it and buy another vehicle.
Which raises the question:
If Not a Land Cruiser, Then What Overland Vehicle?
A Land Rover?
Land Cruiser or Land Rover – it's a never-ending discussion among the die-hards. We are traveling in a Land Cruiser and never drove a Land Rover so we can't make a reasonable comparison.
Having said that, we have noticed two things about Land Rovers (apart from the fact that they are bad-ass looking rigs, of course):
They are made of aluminum! Toyota, why didn't you pick up that brilliant idea?!
We know of 2 Land Rover TD5s that had massive problems with their computers in South America. The sole dealer in the southern part of this continent was Buenos Aires. As a result, one couple had to truck their truck from Salar de Uyuni (Bolivia) and the second from Ushuaia to Buenos Aires.
Land Rover or Land Cruiser – the Discussions:
Read More: Meet the Land Cruiser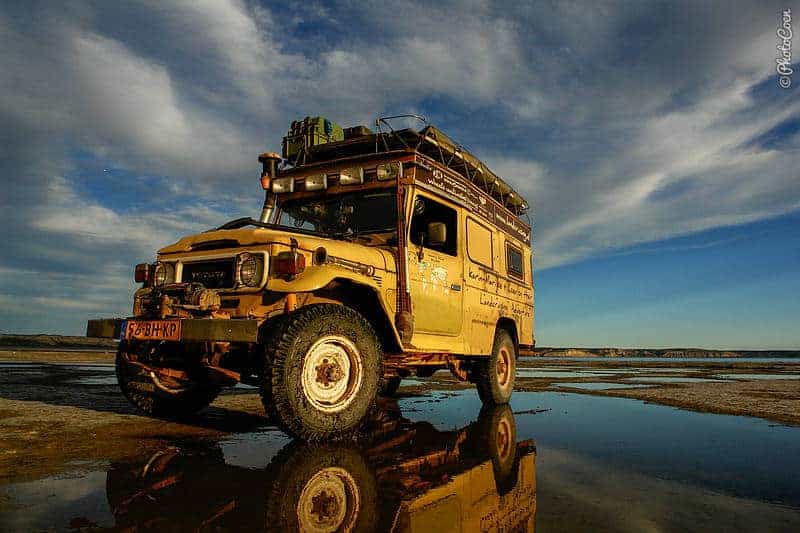 The latter hasn't anything to do with Land Rovers specifically but does bring up an important issue to think about when investing in an overland rig:
Mechanically vs. Digitally-Built or: Old vs. New
Like the Land Cruiser vs. Land Rover discussion, the opinions differ on traveling in an old or new car. A discussion on this topic can even get heated.
The Old Vehicle Argument
Go as mechanically as you can. We have been able to find parts in most countries. Sometimes original but often we've settled for local copy version (because of either of price or availability). Or, if that was unavailable, mechanics have made and modified parts for us. Ergo: there has always been a solution and that's what counts.
Our pointing being: this is an option that works for mechanical parts, not for a broken circuit board.
Read More: The Best Workshop in South America – Ernesto
Ordering Parts from Abroad
You can always have a spare part sent to you from wherever in the world, whether this is mechanical or digital. Make sure you check the rules on import taxes for spare parts because in some countries this will add enormously to your expenditure (e.g. Brazil and Argentina).
If you do have a spare part send to you:
Try to find a local whose address you may use for the shipment so you don't depend on a post office (where, in some countries, things tend to get 'lost', in our experience).
Ask for the sender to send it as inconspicuously as possible (without receipts and such), which may give you a better chance of avoiding the import tax department of that country.
Read More: Problem Solving on the Road – The Last Bolts
Recommended Books on Overlanding
(click on the images to look inside)
Products from Amazon
The New Overland Vehicle Argument
Others are set on traveling with a brand-new vehicle, arguing it won't need any maintenance yet and won't break that easily, which are totally reasonable arguments. It's also a perfectly sensible option for those who don't want to spend time in workshops or work on the car themselves.
We didn't consider this option for the simple reason that we didn't want to spend so much money on a vehicle having no clue whether we were going to like overlanding at all.
New cars, however, may have other issues, related to fuel. Two points to remember:
Shreesh and Neena bought the newest FJ Cruiser and drove from the US to South America. This worked great until they reached Brazil. They couldn't explore Brazil as Brazil's fuel consist of 23% ethanol and the computer wizardry didn't take on that fuel too well (Maybe you'd be able to adapt a chipset so that it would work, but that's a whole different ballgame.). To learn about Shreesh and Neena's story first-hand, check out their website.
An old rig like ours drinks everything (although it does perform better on clean diesel rather than dirty fluids it got e.g. in Bolivia). From what we understand from other overlanders, new vehicles are more demanding in good-quality fuel.
Read More: The Stupidest Things Overlanders Brought on their Journey (and the Smartest)
Traveling in Warm Climates vs. Cold Climates
In Asia we said we had the perfect car. We could get anywhere, lived outside and slept in our rooftop tent. In South America, however, we nuanced our opinion. In Patagonia and the Andes Mountains the climates are not always that pleasant: think frost, strong wind, and (cold) rain. We lived inside the Land Cruiser for days if not weeks on end.
During those times we've looked with a bit of jealousy to e.g. VW Combis that offer a tad more comfort than our Land Cruiser. If ever a change takes place, a VW Combi is a serious alternative for us.
We can see the comfort of the large overland trucks such as the MAN, and we are grateful for all the coffee, red wine and even meals we've shared with our friends in their homes-on-wheels, however, those overland vehicles are too big and too expensive for us.
Read More: Why We Love our Rooftop Tent
Conclusion: Is a 4WD Overland Vehicle a Must for Us?
The whole discussion of what is the perfect overland vehicle can last long nights around a bonfire because there isn't a sole answer. It is plain and simple: the perfect vehicle doesn't exist.
It all depends on your need for comfort, your style of driving, the continent you're traveling, etc. What works for one traveler, doesn't for the other. What is of great comfort on one continent, maybe a cause of a lot of trouble on the next.
Our solution:
Enjoy our own overland rig while making lots of big-vehicle overlanding friends in cold climates:-)
Thanks, among others,  Bruno & Renate and Jan & Gerda for the comfort of your homes-on-wheels in freezing Patagonia.
Tips? Feedback? Your Ideas?
Do you agree? What are your experiences? Please share them with us in the comment section below.
Originally published in 2012 / updated in September 2017
Read More: Having Fun on the Road – The Amagá Railroad Bridge
Check Out: The Landcruising Adventure Sticker Collection
Support Landcruising Adventure
Through your contribution or purchase in our shop you help us keeping this website online and sharing the wonderful vibes of overlanding.
How's that for a Win-Win?
Check out our Support Page and see what contribution suits you best. There are free and paid options and all help to keep this website going.
Thanks, and enjoy the ride.
More on Car Talk: