Originally published in 2016 / Last updated in March 2018
Here is the good news: Free camping in South Korea is easy. This is a super safe country and there are parking lots all over the place. Another bonus is that this country has zillions of public toilets, you can literally find them on every corner of the street, in every subway, and in many parking lots.
They are free of charge, generally clean, and come with toilet paper, running water and in most cases with soap.
Read More: Where are We – The Demilitarized Zone (DMZ)
Note:
The end of July/beginning of August is the time that 50 million Koreans go on vacation, thus every beach and campsite is packed.
Read More: Where are We – South Coast of Korea
The not-so-good news is that we haven't found many truly mind-blowing places to rough camp. I guess the country is too densely populated for that. South Korea has lots of nature but that's mostly in the mountains where a piece of flat land isn't evident to find. To enjoy nature's majesty, you will have to hike
Read More: Hiking in Seoraksan National Park
Campgrounds & Rough Camps
Apart from parking lots and rough camps, you will come across two kinds of campgrounds:
Free of charge, with basic facilities such as cold water and public toilets. No need for reservations.
Paid campgrounds. These often come with facilities, or so we have been told (we haven't used them), such as WiFi, hot water, electricity hook-ups. Reservations (online) are required.
Thus far we have stayed mostly in parking lots and once on a free campground. It was weekend thus packed. For us, coming from noisy South America, it was bliss to camp alongside some 20-30 families without blaring radios. At 10 pm it was actually quiet. Koreans have confirmed that this is the norm, not an exception!
Read More: Accommodation & Camping in Russia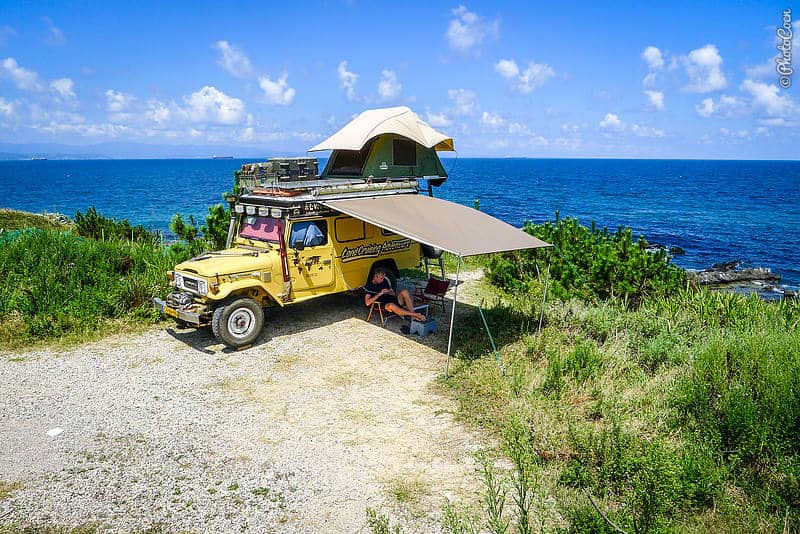 Backcountry Camping & Shelters in National Parks
Backcountry camping is forbidden in national parks but some do have campgrounds, (here's the list). A number of them have shelters though, good for multiple-day hikers. Note that you have to make reservations in advance. The reservation is mandatory, but you pay at the shelter (find the reservation page here).
Expect fees to be around 8000-10000 won (US $6-8.50). For hikers: instead of carrying around an inflatable mattress and/or sleeping bag you can also rent 1 or 2 blankets at the shelter (2000 won, US $1,75) to sleep on/under.
Bring earplugs! Size of shelters can vary from a dozen to more than a hundred persons.
Read More: Hiking in Jirisan National Park
Jjimjilbang (찜질방)
Jjimjilbang are bathhouses with different types of hot baths but you can also spend the night here. (Thus this may be a very affordable option to stay while e.g. waiting for your car to arrive in the port). Local people often do this.
We went to a few just for the bath but haven't spent the night there. The jjimjilbangs have common rooms for everybody, but the saunas are for same sex. Here's more on the subject.
Staying with Local People
We were invited through our website to stay with local people. Invitations also came from people we were chatting with on the street. We love taking them up, which have always resulted in special encounters and sometimes friendships.
Read More: Thank you, Korea
Paid Accommodation
While in Busan, awaiting our car that arrived from Suriname in a container we booked an Airbnb (not knowing about jjimjilbans yet). Nothing special, but a simple, affordable, clean, and friendly place. To find accommodation, find one here.
Map with GPS Waypoints of our Camping Spots in South Korea
Let there be no misunderstanding: no, you don't have to go to these places. No, these are not by definition the best spots. In South Korea you will have no problem finding your own places to camp. We decided to share our GPS Waypoints anyway, for overlanders who would like some tips about camping spots which we enjoyed or found practical. Please note that this is always our personal experience.
You can also check out iOverlander, where you can see where other overlanders spent the night. Unfortunately, not many sites have been uploaded on South Korea yet so please, add yours too.
If you prefer staying at a paid accommodation, find one here.
Busan


Busan. In Busan we booked an Airbnb hotel for the days we organized getting the car out of the container. With our own home on wheels back on the road we drove about 20 kms north, to the Beomeosa temple. We could not stay in the parking lot of the temple itself, which closes at 9pm, but could stay at the one below the official entrance. It was not particularly interesting but convenient and quiet. Alongside was a small shop where you can buy noodle soups, snacks, and get hot water (260 mtrs, Apr '16).
gps: 35.282208 129.073087

Goseong


Goseong Dinosaur Museum. At the museum, along the shore, is a free campsite with toilets and cold water. No WIFI. We enjoyed staying here during the weekends in the company of Koreans camping here (Apr '16).
gps: 34.910688 128156471

Tabri (Ssangyesa Temple)


Tabri (Ssangyesa Temple). We camped in the parking lot of the Tea Cultural Center down by the river. Very quiet and public toilets (92 mtrs, Apr '16).
gps: 35.226781 127.642524

Jeonju


Jeonju. Camped in a small parking lot along the lake just outside the center. No facilities but quiet place to spend the night (75 mtrs, Apr '16).
gps: 35.823407 127.174161

Maisan National Park


Maisan Provincial Park. Campsite with toilets, hot shower, and WIFI in the office at the entrance. Not sure whether normally a fee is charged but we didn't have to pay (entered via a friend). Beautiful hiking tails (360 mtrs, Apr '16).
gps: 35.755471 127.4023

Yeoju


Yeoju. Parking Lot of the Silleuksa Temple under a tree and next to drinking fountain and public toilets. (118 mtrs, June '16).
gps: 37.229654, 127.654797

Yanggu


Yanggu. In the parking lot of the tourist information office where you have to buy the permit for the Eilji Observatory and 4th tunnel (day pass, costs 6000 Won). WIFI right in front of the tourist office, and public bathroom at the museum also situated here (445 mtrs, June '16).
gps: 38.289886, 128.14543

Hwajinpo Beach


Hwajinpo Beach (north of Sokcho). Beautiful wide, white-sand beach with public toilets. Quiet too. Could be, what we guess from information panels, is that during high season (Jul-Aug) you have to pay an entrance fee, the place will be packed but then there will also be access to publish showers. At nearby Aquarium was WIFI signal (June '16).
gps: 38.478921, 128.437699

Seoraksan National Park


Seoraksan National Park. There are lots of enormous parking lots 2 or 3 kilometers before the entrance of the park, but one night we camped in somewhat nicer looking spot: the forested parking lot of a dysfunctional hotel (153 mtrs, June '16).
gps: 38.168989, 128.517014

Seorak Beach


Seorak Beach (south of Sokcho). Not as impressive as Hwajinpo Beach but still a nice place to camp. WIFI at CU convenient store located next to the parking lot. Public toilets  (June '16).
gps: 38.129315 128.62329
Fuel Up
Thank you to those who have bought us a couple of liters of diesel to support our journey and/or website.
Would you like to do the same?
More on South Korea: